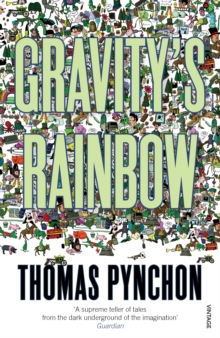 Gravity's Rainbow
Paperback
Description
Tyrone Slothrop, a GI in London in 1944, has a big problem.
Whenever he gets an erection, a Blitz bomb hits. Slothrop gets excited, and then, as Thomas Pynchon puts it in his sibilant opening sentence, 'a screaming comes across the sky', heralding an angel of death, a V-2 rocket.
Soon Tyrone is on the run from legions of bizarre enemies through the phantasmagoric horrors of Germany.
Gravity's Rainbow is never a single story, but a proliferation of characters - Pirate Prentice, Teddy Bloat, Tantivy Mucker-Maffick, Saure Bummer, and more - and events that tantalize the reader with suggestions of vast patterns only just past our comprehension.
It is a blizzard of references to science, history, high culture, and the lowest of jokes and among the most important novels of our time. Winner of the National Book Award.
Information
Format: Paperback
Pages: 912 pages
Publisher: Vintage Publishing
Publication Date: 01/07/1995
ISBN: 9780099533214
Free Home Delivery
on all orders
Pick up orders
from local bookshops
Reviews
Showing 1 - 2 of 2 reviews.
Review by gbsallery
16/06/2015
This is one of only two books I have ever stopped reading part-way through. The other is Joyce's Ulysses; the stylistic similarities of the two may have put me off of Gravity's Rainbow on my first attempt, but it was worth another try. Having now completed it, I have to admit that all the vociferous fans of Thomas Pynchon really do have a point: this is a great book. Spectacular. A rich, holographic exploration of tangled themes, scatology (and a little eschatology). Also rockets.In some ways reading the book is like watching literary parkour in rush-hour traffic - you are never sure whether a theme will be developed, or whether it will be hit by another explosive juggernaut of whimsy. Horrid, beautiful, disturbing - Gravity's Rainbow is all these things, with a hallucinatory quality which rewards careless reading. Try to parse too closely, and the work jams up like a balky escapement; relax into it, read with the flow and the lyricism becomes apparent.Worth the persistence!
Review by alexrichman
27/08/2015
Infinite Jest's cranky uncle - the hardest book I've ever read. There are 900 pages and 400 characters, and far more casual paedophilia than I'm used to, but despite my difficulties, it's obviously a work of (mad) genius. I even managed to enjoy some passages - the Anubis orgy, Ilse's impostors - but am mainly relieved to be finished.