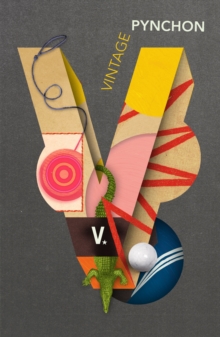 Description
The quest for V. sweeps us through sixty years and a panorama of Alexandria, Paris, Malta, Florence, Africa and New York.
But who, where or what is V.? Bawdy, sometimes sad and frequently hilarious, V. as become a modern classic. This is the first novel by the author of Gravity's Rainbow, and a profoundly impressive and original work in its own right.
Information
Format: Paperback
Pages: 496 pages
Publisher: Vintage Publishing
Publication Date: 01/02/1995
ISBN: 9780099533313
Free Home Delivery
on all orders
Pick up orders
from local bookshops
Reviews
Showing 1 - 4 of 4 reviews.
Review by flashgirl
16/06/2015
An excellent read for aspiring adventuresses
Review by Gazgnu
16/06/2015
This is one of the best books I've ever read. It's not easy, but it's amazingly rich, beautiful and strangely funny. It's about the relationships between people and objects in this crazy modern world of ours (well, circa 1960). The man is a genius.
Review by dylanwolf
16/06/2015
A bewildering, sprawling monster of a novel, V pitches you into a cacophony of experience that leaves you reeling in exhaustion. Purposely abstruse the reader is often left floundering amongst the unfathomable characters and seemingly limitless cul-de-sacs. This is a read that is hard to love, but is clearly erudite with the tangle of modernism it throws at you. My first Pynchon, I will read more but I leave for now, both impressed and confused.
Review by DRFP
16/06/2015
Somewhere along the way this novel went awry. For the first half or more I found <i>V</i> an exhilerating dash through various histories and subject matters, with the language to match. Then it started juddering to a halt once the narrative heads to German SW Africa. That section and the Siege of Malta, perhaps because of both's fever dream aspects, made a challenging but entertaining novel head further into the abstract, and my interest waned as a result. The antics of The Whole Sick Crew also seemed to spiral in to pointlessness as well, which may be the point, but it doesn't make it any more interesting to read.Perhaps it's nothing too complicated and <i>V</i> simply falls down like many other novels by failing to deliver a satisfying enough climax after all that has come before? Or is the novel little more than a cobbled together collection of interesting short story ideas that Pynchon had, which explains its uneven quality? Either way, tt remains a good novel and a very impressive debut, but after enjoying the first half of the story so much, I can't help but feel let down having turned the last page with the book's early verve long since disappated.