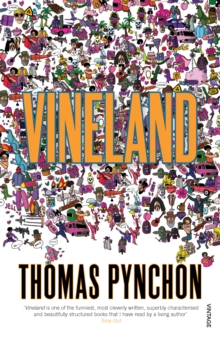 Description
Vineland, a zone of blessed anarchy in northern California, is the last refuge of hippiedom, a culture devastated by the sobriety epidemic, Reaganomics, and the Tube.
Here, in an Orwellian 1984, Zoyd Wheeler and his daughter Prairie search for Prairie's long-lost mother, a Sixties radical who ran off with a narc.
Vineland is vintage Pynchon, full of quasi-allegorical characters, elaborate unresolved subplots, corny songs ("Floozy with an Uzi"), movie spoofs (Pee-wee Herman in The Robert Musil Story), and illicit sex (including a macho variation on the infamous sportscar scene in V.).
Information
Format: Paperback
Pages: 400 pages
Publisher: Vintage Publishing
Publication Date: 07/05/1992
ISBN: 9780749391416
Free Home Delivery
on all orders
Pick up orders
from local bookshops
Reviews
Showing 1 - 2 of 2 reviews.
Review by clong
16/06/2015
Vineland is my second Pynchon novel, and it left me with mixed feelings. I loved the first 100 pages or so of this book, but I started losing interest as Pynchon started cycling through layer after layer of characters and story-in-story construction in an 62 page monster chapter. After that I never really completely reengaged in the story, but I still found a variety of things to like about it. Reading Pynchon is often hard work, but hard work with a payoff that justifies the effort. I suspect that his books are ones that can be re-read several times, with new things clicking into place each time. He seems to be one of those authors who inspire strong reaction pro and con; I have to put myself squarely in the pro column. This is dense, funny, ambitious storytelling of the highest order leavened with generous portions of smart absurdity; even when it falls short it's still a fun ride.Vineland gives us lots of colorful characters, but seldom focuses on any one of them for long. My favorite was Zoyd, the aging drug-addled hippie who periodically has to convince Authority that he's still crazy to continue to qualify for government handouts. To the extent that there is a single protagonist for the book, I suppose it's got to be Frenesi, a tragic character whose motivations I never really understood (beyond the fact that authority figures turned her on in a big way). She is a character whom we primarily see through others' eyes, especially in the first half of the book.Vineland clearly is trying to say something about what's happened to the US since Vietnam. Somehow it feels much scarier after eight years of the G.W. Bush administration than it would have felt previously (which is not to deny that Bush's immediate predecessor seems to have thought primarily with the same part of his anatomy that drives this book's villain's actions).I'll definitely plan to read more by Pynchon. I suppose I should put Gravity's Rainbow on the wishlist.
Review by DRFP
16/06/2015
I'm not really big on post-modern writers, so I'm not likely to be Pynchon's target audience or a natural loyal fan. I dipped my toe in (as many do) with the short, but still baffling, <i>The Crying of Lot 49</i>. Despite a playfulness to that text I didn't get much out of it or feel compelled to keep going with Pynchon. However, recently I've been dabbling in later authors fond of Pynchon, so thought the time was right to give him another go and to check out another of the "safer" options from his bibliography.The result? A mixed bag. There's some wonderful characterization in <i>Vineland</i> that is especially touching, moments both big and small, that makes a real impression. Then there are gaping holes in the story - like why Frenesi acts in quite the way she does. Pynchon makes no bones about the fact she's a cold character, but it feels a little weak to be told Frenesi sold everyone out because she doesn't <i>really</i> care that much and she has a thing for authority figures.Probably the best thing in <i>Vineland</i> is the sense of loss that exudes from the novel. There's a palpable feeling that events took a wrong turn in American history starting in the Nixon era, and there's no way back at all. The events that unfold in Frenesi's past are really quite bleak to read as the optimism and good intentions of the 60s are blasted away by a ruthless government machine and undermined from within - a purge that continued in to the 80s and the Reagan years. Reading all this from another era, 2013, debilitated by the excesses of neo-liberalism made for quite depressing reading (at least for someone like me, left of centre). Of course, there are the wacky elements to this story that mustn't be forgotten. The ninjas, the Godzilla monster, the <i>Star Trek</i> references, the man who has sex with his car... These are all quite funny, and there is a lot of humour in the book, but it's all very post-modern and not all of it hangs together well. The ending with Brock is particularly "WTF-inducing" and feels a bit like a cop-out. Still, if there are ropy sections to this novel, I'm willing to forgive them for the general heartfelt feeling the novel is written with and it's many other amusing sections. <i>Vineland</i> hasn't exactly made me a convert, but it has at least convinced me it might not be such a bad thing to go read <i>Inherent Vice</i>, though <i>Gravity's Rainbow</i> might have to wait a little longer still.