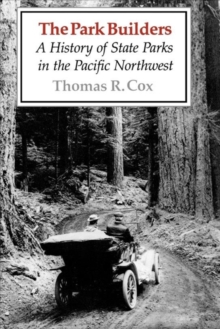 The Park Builders : A History of State Parks in the Pacific Northwest
Paperback / softback
Description
Among the greatest attractions of the Pacific Northwest are its state parks, campgrounds and tree-lined highways.
From Idaho hot springs to the Oregon coast, millions of people enjoy this priceless legacy every year but few stop to think about the source of this bounty. The Park Builders profiles the men who provided the parks, and the times that shaped them.
From its beginnings as part of the progressive crusades to its evolution into an expected function of state government, the state parks movement in the Northwest is a window onto the political and social developments of the twentieth century.
The states of Washington, Idaho, and Oregon were generally in the mainstream of the parks movement, but each of their histories is unique.
Taken together, they help to define the nature and limitations of regionalism in the Northwest. Especially in the early years, the story of state parks was largely the story of individuals.
Drawing extensively from interviews and personal papers, Thomas Cox creates memorable pictures of parks activists in each state.
Robert Moran, creator of the battleship, Nebraska, spent a decade lobbying the state of Washington to accept his magnificent acreage on Orcas Island.
Sam Boardman went from a road crew to the head of Oregon's park system, and took up his mission with a zeal that was literally religious: "To me a park is a pulpit," he wrote. "The more you keep it as He made it, the closer you are to Him." In Idaho, Senator Weldon Heyburn, no proponent of state expenditures, set out to create a national park, and ended up with a premier state park, named for him. State parks serve more people at far less expense than do those in the National Park System.
Since their fates are determined largely at the state level, they are an ideal venue for the study of grassroots activism and regional trends.
This book is the first to collect these themes into a coherent whole.
It will serve as a model for further regional studies of its kind.
Information
Format: Paperback / softback
Pages: 260 pages
Publisher: University of Washington Press
Publication Date: 15/06/1988
Category: History of the Americas
ISBN: 9780295966205
Free Home Delivery
on all orders
Pick up orders
from local bookshops