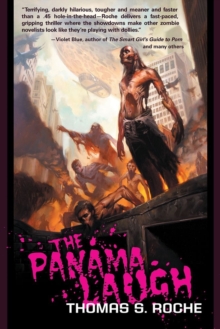 The Panama Laugh
Paperback / softback
Description
Ex-mercenary, pirate, and gun-runner Dante Bogart knows he's screwed the pooch after he hands one of his shady employers a biological weapon that made the dead rise from their graves, laugh like hyenas, and feast upon the living.
Dante tried to blow the whistle via a tell-all video that went viral but that was before the black ops boys deep-sixed him at a secret interrogation site on the Panama-Colombia border.
When Dante wakes up in the jungle with the five intervening years missing from his memory, he knows he's got to do something about the laughing sickness that has caused a world-wide slaughter.
The resulting journey leads him across the nightmare that was the Panama Canal, around Cape Horn in a hijacked nuclear warship, to San Francisco's mission district, where a crew of survivalist hackers have holed up in the pseudo-Moorish-castle turned porn-studio known as The Armory.
This mixed band of anti-social rejects has taken Dante's whistle blowing video as an underground gospel, leading the fight against the laughing corpses and the corporate stooges who've tried to profit from the slaughter.
Can Dante find redemption and save civilization?Skyhorse Publishing, under our Night Shade and Talos imprints, is proud to publish a broad range of titles for readers interested in science fiction (space opera, time travel, hard SF, alien invasion, near-future dystopia), fantasy (grimdark, sword and sorcery, contemporary urban fantasy, steampunk, alternative history), and horror (zombies, vampires, and the occult and supernatural), and much more.
While not every title we publish becomes a New York Times bestseller, a national bestseller, or a Hugo or Nebula award-winner, we are committed to publishing quality books from a diverse group of authors.
Information
Format: Paperback / softback
Pages: 300 pages
Publisher: Night Shade Books
Publication Date: 01/08/2011
Category: Horror & ghost stories
ISBN: 9781597802901
Free Home Delivery
on all orders
Pick up orders
from local bookshops