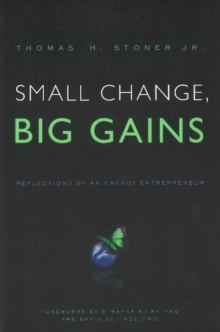 Small Change, Big Gains : Reflections of an Energy Entrepreneur
Paperback / softback
Description
Small Change, Big Gains: Reflections of an Energy Entrepreneur introduces climate change economics and provides recommendations on how to develop feasible pathways to a sustainable energy future.
Mr. Stoner examines the global energy supply as if it was a single portfolio of assets, and shows it is possible to align the interests of energy investors, suppliers, users, and environmental stewards.
He explains how we--as business professionals, students, consumers, and citizens--can transform our current energy system into a system that creates new business opportunities, promotes environmental health, and broadens our understanding of wealth.
He illustrates clearly how climate change and resource use are not just economic and environmental issues, but also existential ones.
He likens humanity's relative inaction to the climate crisis--a situation he terms 'environmental suicide'--to his own experience as a survivor of suicide.
In a deeply personal account, Mr. Stoner shares his feelings of responsibility for another's self-destructive choice, asking, "What could I have done differently. " Today, he asserts that we must all seek to answer a different question to help humanity avoid environmental suicide: "What can we do differently?" Tom Stoner's appeal to a shared planetary fate is uniquely grounded in the author's extensive experience as an energy executive.
Readers can expect to come away with a better understanding and new perspective on the energy debate, armed with an innovative problem-solving methodology to transform business models into promoters of energy sustainability and a better future for the planet.
Information
Format: Paperback / softback
Pages: 556 pages
Publisher: Greenleaf Book Group LLC
Publication Date: 01/09/2013
Category: Economics
ISBN: 9781626340022