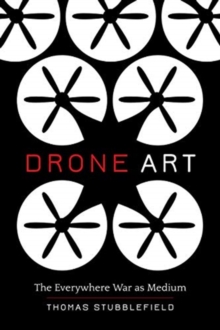 Drone Art : The Everywhere War as Medium
Paperback / softback
Description
What happens when a drone enters a gallery or appears on screen?
What thresholds are crossed as this weapon of war occupies everyday visual culture?
These questions have appeared with increasing regularity since the advent of the War on Terror, when drones began migrating into civilian platforms of film, photography, installation, sculpture, performance art, and theater.
In this groundbreaking study, Thomas Stubblefield attempts not only to define the emerging genre of "drone art" but to outline its primary features, identify its historical lineages, and assess its political aspirations.
Richly detailed and politically salient, this book is the first comprehensive analysis of the intersections between drones, art, technology, and power.
Information
Format: Paperback / softback
Pages: 232 pages, 25 b-w illustrations
Publisher: University of California Press
Publication Date: 10/03/2020
Category: General arts
ISBN: 9780520339620
Also by Thomas Stubblefield