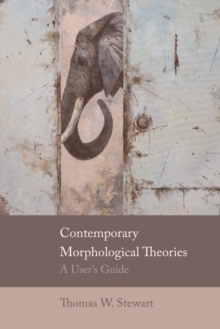 Contemporary Morphological Theories : A User's Guide
Paperback / softback
Description
In spite of the central position that the concept word has among the basic units of language structure, there is no consensus as to the definition of this concept (or network of related concepts).
Many perspectives are needed in order to gain even a schematic idea of what words are, how words may be composed, and what relationships there might be between words.
Many linguists have put forward frameworks for describing the domain of morphology, each framework proceeding from its author's assumptions, prioritising distinct formal and functional dimensions, and therefore entering into de facto competition.
This book addresses the needs of the language scholar/student who finds her/ himself engaged in morphological analysis and theorising.
It offers a guide to existing approaches, revealing how they can either complement or compete with each other.
Information
Format: Paperback / softback
Pages: 192 pages
Publisher: Edinburgh University Press
Publication Date: 30/11/2015
Category: Grammar, syntax
ISBN: 9780748692682