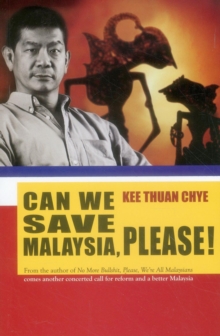 Can We Save Malaysia, Please?
Paperback / softback
Description
After the 13th general election (GE13) in May 2013, Malaysians hoped that the ruling Barisan Nasional (BN) coalition would respond humbly and positively to the public cry for change and reform, especially since it lost the popular vote.
But instead, the BN Government has continued to be arrogant, autocratic and bent on further politicising the issues of race and religion.
Despite paying lip service to the need for national reconciliation, it has launched policies, pushed through laws, and committed acts of persecution that have succeeded in dividing the people even more.
Its own supporters continually talk of another racial riot breaking out, like the one of May 13, 1969.
The political situation in Malaysia is thus now worse than it has ever been before. And the prospect of saving Malaysia from potential disaster seems all the more hopeless. No-bullshit writer Kee Thuan Chye asserts the urgent need for change by highlighting the events and issues that have arisen since GE13 - ranging from the 'Allah' controversy to the revival of preventive detention to the acquittal of the duo charged with the murder of Altantuya to the conviction of Anwar Ibrahim for Sodomy 2 to Malaysia's embarrassing handling of the MH370 crisis. This is a book everyone should read to understand what is really happening in Malaysia - and, more importantly, to Malaysia. Among its contents are: * Najib Deserves His Ratings Drop * Najib Has Set Us Back 40 Years * Will There Be Justice for Sabah? * Crime is Up, Cops are Down * Kill National Service Before It Kills Again * Are We Ready to Become an 'Advanced Nation'? * Ini Kali Lah! Press for Freedom! * Islam is Not Under Threat, But Penang Is * What Can We Do to Shake Governor Taib? * How Dare Najib Discredit Mandela * Malaysia and the MH370 crisis
Information
Format: Paperback / softback
Pages: 300 pages
Publisher: Marshall Cavendish International (Asia) Pte Ltd
Publication Date: 15/10/2014
Category: Politics & government
ISBN: 9789814561235
Free Home Delivery
on all orders
Pick up orders
from local bookshops