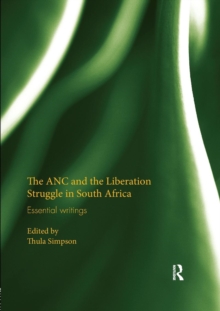 The ANC and the Liberation Struggle in South Africa : Essential writings
Paperback / softback
Description
The history of the ANC, which is the oldest liberation movement on the African continent, is one that has generated a great deal of interest amongst historians in recent years.
Gone are the days when the history of African nationalism could be relegated to the margins of the study of the South African past.
Instead, with the ANC having ascended to the helm of political power, a position it has maintained for over twenty years, there can be no question that its history occupies an important and permanent place in the history of the nation.
This volume gathers together some of the most important contributions to the literature on the ANC's role in South Africa's struggle for liberation.
Besides important themes such as gender, ethnicity, and healthcare, contributions from leading historians also address why the ANC decided to engage in armed struggle; what role the South African Communist Party played in making this decision; how the ANC External Mission contributed to the upsurge of mass protest in South Africa in the 1970s and 1980s; and the ANC's contribution, relative to the other components of the liberation struggle, in ensuring the eventual demise of the old racial order.
The chapters in this book were originally published in the South African Historical Journal, the Journal of Southern African Studies, and African Studies.
Information
Format: Paperback / softback
Pages: 386 pages
Publisher: Taylor & Francis Ltd
Publication Date: 11/01/2019
Category: African history
ISBN: 9780367139148