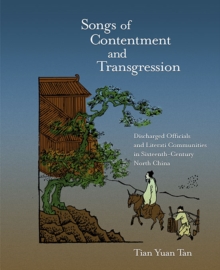 Songs of Contentment and Transgression : Discharged Officials and Literati Communities in Sixteenth-Century North China
Hardback
Description
A discharged official in mid-Ming China faced significant changes in his life.
This book explores three such officials in the sixteenth century - Wang Jiusi, Kang Hai, and Li Kaixian - who turned to literary endeavors when forced to retire.
Instead of the formal writing expected of scholar-officials, however, they chose to engage in the stigmatized genre of qu (songs), a collective term for drama and sanqu.
As their efforts reveal, a disappointing end to an official career and a physical move away from the center led to their embrace of qu and the pursuit of a marginalized literary genre.
This book also attempts to sketch the largely unknown literary landscape of mid-Ming north China.
After their retirements, these three writers became cultural leaders in their native regions.
Wang, Kang, and Li are studied here not as solitary writers but as central figures in the 'qu communities' that formed around them.
Using such communities as the basic unit in the study of qu allows us to see how sanqu and drama were produced, transmitted, and 'used' among these writers, things less evident when we focus on the individual.
Information
Format:Hardback
Pages:314 pages
Publisher:Harvard University, Asia Center
Publication Date:31/10/2010
Category:
ISBN:9780674056046