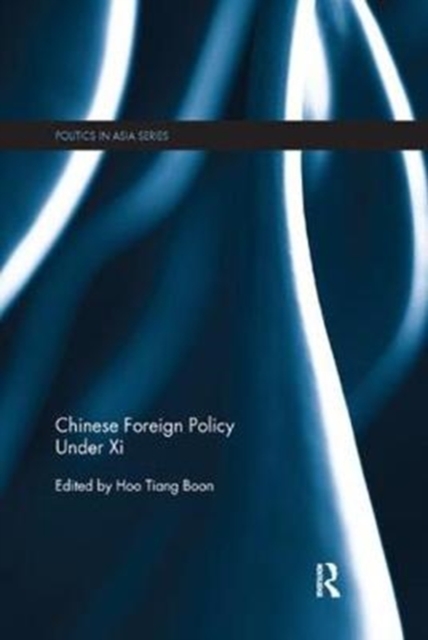 Chinese Foreign Policy Under Xi
Paperback / softback
Description
There has been a discernable calibration of Chinese foreign policy since the ascension of Xi Jinping to the top leadership positions in China.
The operative term here is adjustment rather than renovation because there has not been a fundamental transformation of Chinese foreign policy or "setting up of a new kitchen" in foreign affairs.
Several continuities in Chinese diplomacy are still evident.
The People's Republic of China (PRC) has not wavered from its overarching strategy of rising through peaceful development.
The PRC is still an active participant and leader in, or shaper of, global and regional regimes even as it continues to push for reforms of the extant order, towards an arrangement which it thinks will be less unjust and more equitable.
It seeks to better "link up with the international track", perhaps even more so under Xi's stewardship.
Yet amidst these continuities, it is clear that there have been some profound shifts in China's foreign policy.
From the enunciation of strategic slogans such as the "Asian security concept" and "major country diplomacy with Chinese characteristics"; the creation of the China-led and initiated Asian Infrastructure Investment Bank; the pursuit of Xi's signature foreign policy initiative, the One Belt One Road; to a purportedly more assertive and resolute defense of China's maritime territorial interests in East Asia—examples of these foreign policy calibrations (both patent and subtle) abound.
In short, this has not been a complete metamorphosis but there are real changes, with important repercussions for China and the international system.
The burning questions then are What, Where, How and Why: What are these key foreign policy adjustments?
Where and how have these occurred in Chinese diplomacy? And what are the reasons or drivers that inform these changes?
This book seeks to capture these changes. Featuring contributions from academics, think-tank intellectuals and policy practitioners, all engaged in the compelling business of China-watching, the book aims to shed more light on the calibrations that have animated China's diplomacy under Xi, a leader who by most accounts is considered the most powerful Chinese numero uno since Deng Xiaoping.
Information
Format:Paperback / softback
Pages:210 pages, 14 Tables, black and white
Publisher:Taylor & Francis Ltd
Publication Date:14/08/2018
Category:
ISBN:9781138366046
Information
Format:Paperback / softback
Pages:210 pages, 14 Tables, black and white
Publisher:Taylor & Francis Ltd
Publication Date:14/08/2018
Category:
ISBN:9781138366046
Also in the Politics in Asia series | View all