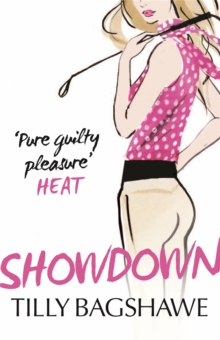 Description
A wickedly sexy romp from one of the most exciting voices in commercial fiction - 'Pure guilty pleasure' HeatMilly Lockwood Groves is stuck at her parents' racing stables and stud farm outside Newmarket, her dreams of making it as a champion jockey in tatters.
Her father has forbidden her to ride after a fall left her hospitalised - and there's no arguing with him.
As a millionaire racehorse breeder and bastion of the male dominated racing fraternity, he would prefer Milly took up more ladylike pursuits, and left the riding to her brother, Jasper. Although Milly has more talent in her left riding boot than the poisonous Jasper will ever have, her family are determined to fill Milly's life with cookery courses and debs' balls in London.
But Milly's life is about to change with the arrival of Bobby Cameron, the most skilled horse-breaker in America.
Milly, who previously has had no interest in males of the two-legged variety, develops a passionate crush on the blond, beautiful Bobby. When Bobby offers her the chance to spend a year on his Californian ranch, it's just too good an opportunity to refuse...
Information
Format: Paperback
Pages: 528 pages
Publisher: Orion Publishing Co
Publication Date: 08/08/2007
ISBN: 9780752881300
Free Home Delivery
on all orders
Pick up orders
from local bookshops
Reviews
Showing 1 - 1 of 1 reviews.
Review by magemanda
16/06/2015
Showdown is the second book by Tilly Bagshawe, and follows very firmly in the footsteps laid down by such bonkbuster greats as Jilly Cooper and Jackie Collins. The book is filled with larger than life caricatures of jockeys, investors and cowboys.It centres around the character of Milly, a young wannabee jockey who is taken under the wing of cowboy Bobby - he takes her to his ranch Highwood in California to train her as a quarter horse jockey, while he tries to turn around the fortunes of his ranch. As is usual with books of this nature, it is quite clear that Bobby and Milly are destined to be together, but this book took its own sweet time getting them there. Leaving it to the very last page seemed to be dragging it out a little too long - especially when some of the barriers to their relationship were clearly shoehorned in to drag out the 'tension' (such as Zac, the barrister).You could argue that none of the characters are remotely realistic and the events are far-fetched, but the very existence of this book is about pure escapism and the happy-ever-after ending. I enjoyed it for this, and for the fact that a number of the characters were warm and lovable - Amy, Dylan and Sean amongst them.It was unfortunate that the two main characters were so easily disliked! Bobby was arrogant and impossibly ignorant for most of the book. Milly was naive and frustratingly unaware of the consequences of her actions.The feud with Rachel was a major part of the novel, but it was hard to ascertain exactly WHY these two girls hated each other enough to sabotage careers and hurt lives over it. I also found Bagshawe's habit of 'telling, not showing' very tiring. As each character was introduced, we had to have a snippet of back story and their motivations heavily laid out in a quick info dump, rather than allowing these to be revealed carefully through the course of the book.With all this said, I would not object to reading more of this author's work - ideal fodder for a beach holiday!