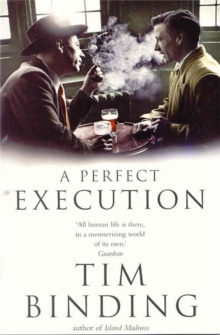 A Perfect Execution
Paperback
Description
Jeremiah Bembo lives quietly growing fruit and vegetables which his wife Judith sells at the local market.
In secret, under the name of Solomon Straw, he travels the country as England's executioner, carrying out the hangings required by law.
In a post-war provincial Britain seamed with commonplace corruption, he strives to maintain a balance of compassion and justice, until a murder is committed which brings his two lives into an inevitable collision. 'A brilliant, terrifying and haunting novel ...it has an almost Dickensian moral clarity ...It combines all the packed action of a thriller with a vision remarkable for its breadth and for its humanity' Evening Standard 'A compelling mixture of murder-mystery, Greek tragedy and love story ...In its exploration of human depravity Tim Binding, like his executioner hero, has taken on a terrible task with grace and intelligence' Sunday Telegraph
Information
Format: Paperback
Pages: 352 pages
Publisher: Pan Macmillan
Publication Date: 01/04/1997
ISBN: 9780330345651
Free Home Delivery
on all orders
Pick up orders
from local bookshops
Reviews
Showing 1 - 1 of 1 reviews.
Review by edwinbcn
16/06/2015
Very little is known about the British author Tim Binding other than that he was born in Germany in 1947. A perfect execution, published in 1996, was his second novel.The story of A perfect execution is somewhat convoluted, as if the reader is half blind, and can only see part of the story, while the other half id obscured. The duality in the story makes the reader see the story mainly from Jeremiah Bembo's perspective, a perspective which is also "halved" as Bembo lost an eye at an early age. Out of Bembo's field of vision are at least his cousin, his wife and her acquaintances and a large part of his own life, his normal life, when is he not Solomon Straw.Jeremiah Bembo, his cousin and his wife, Judith, all grew up together in rural England, in the Buckinghamshire town of Aylesbury, where Bembo's family run a very successful trade as market gardeners, a business he will later take over. During the summer holidays the children make extra money with their Punch & Judy show, with Bembo's cousin as the puppeteer.The scene seems idyllic enough, until one day it is all destroyed by an German bomber, ironically not through bombing, but as the plane crashes into and utterly destroys the glass houses. A piece of glass hits and gets lodged into Bembo's eye, initially distorting his sight, and later the loss of the eye. In his distorted view, Bembo sees the German pilot as the victim of the cruelty of the British youths. He cuts the pilot, who is suspended in the air, hanging from the treads of his parachute, down and mercifully kills him.This event, which destroys the basis of their existence, leads to Bembo's choice to become Britain's executioner. To protect his identity, he adopts the name Solomon Straw, a name which reflects the way he sees himself as the personification of wisdom, with echos of division in halves and the lack of other qualities, as his heart turns as cold as his glass eye.Bembo's cousin embarks on a career as a successful entertainer, eventually making fame on television, and running into various problems and scandals.Jeremiah Bembo alias Solomon Straw enters upon a career unlike any other man, his aim to perfect the killing. After his marriage with his wife Judith, "Judy" he identifies with Mr Punch (of Punch and Judy). This identification with the puppet, dangling from the ropes, not unlike the German pilot, seals his fate. The question remains who is the cruel puppeteer.Ethel, a friend of Bembo's wife outside his field of vision, is harassed and murdered, and it is Solomon Straw's call to execute the murderer, young Danny Dancer. Willing to make his last execution perfect, Solomon fails and makes several mistakes. He is not in perfect control. He is a plaything at the hands of cruel fate, failing to see things clearly, as once Oedipus had failed to see and pierced his eyes.Perhaps not a perfect novel, A perfect execution is an impressive achievement. The disjointed, convoluted way of telling the story is somewhat difficult to follow, but the story is certainly compelling. The scenes in the car are creepy, and psychologically convincing. The murderer, the puppeteer and the hangman: one remains unknown.