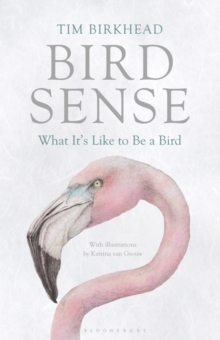 Bird Sense : What it's Like to be a Bird
Hardback
Description
What is it like to be a swift, flying at over one hundred kilometres an hour? Or a kiwi, plodding flightlessly among the humid undergrowth in the pitch dark of a New Zealand night? And what is going on inside the head of a nightingale as it sings, and how does its brain improvise?
Bird Sense addresses questions like these and many more, by describing the senses of birds that enable them to interpret their environment and to interact with each other.
Our affinity for birds is often said to be the result of shared senses - vision and hearing - but how exactly do their senses compare with our own? And what about a birds' sense of taste, or smell, or touch or the ability to detect the earth's magnetic field? Or the extraordinary ability of desert birds to detect rain hundreds of kilometres away - how do they do it?
Bird Sense is based on a conviction that we have consistently underestimated what goes on in a bird's head.
Our understanding of bird behaviour is simultaneously informed and constrained by the way we watch and study them. By drawing attention to the way these frameworks both facilitate and inhibit discovery, it identifies ways we can escape from them to seek new horizons in bird behaviour.
There has never been a popular book about the senses of birds.
No one has previously looked at how birds interpret the world or the way the behaviour of birds is shaped by their senses.
A lifetime spent studying birds has provided Tim Birkhead with a wealth of observation and an understanding of birds and their behaviour that is firmly grounded in science.
Information
Format: Hardback
Pages: 288 pages, Illustrations
Publisher: Bloomsbury Publishing PLC
Publication Date: 02/02/2012
Category: Wildlife: birds & birdwatching
ISBN: 9781408820131
Other Formats
Paperback from £7.85
EPUB from £7.19
Free Home Delivery
on all orders
Pick up orders
from local bookshops
Reviews
Showing 1 - 1 of 1 reviews.
Review by lauralkeet
16/06/2015
I am a bit of a bird nerd, so this book definitely piqued my curiosity. The author examines birds' senses, from the "basic five" to magnetic sense, and even emotions. I picked up several fun facts along the way: did you know birds' internal organs undergo seasonal changes? <em>The centres in the avian brain that control the acquisition and delivery of song in male birds shrink at the end of the breeding season and grow again in the following spring. The brain is expensive to run – in humans it uses about ten times as much energy as any other organ – so, for birds, shutting down those parts not needed at certain times of the year is a sensible energy-saving tactic.</em>I also enjoyed the chapter on smell. Only recently have scientists confirmed birds do indeed have a sense of smell, and there is still much to study and learn. This book is written much more for the lay person than a scientist, which was fine with me because I'm not a scientist. Despite that, I would have enjoyed going deeper into some of the research, and also wanted to know more about areas of current scientific debate.