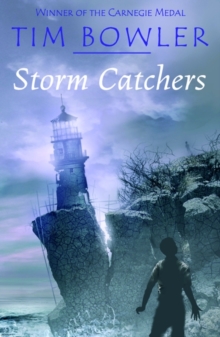 Description
Fin is devastated by guilt when his sister, Ella, is kidnapped. She is snatched away from the house in the middle of a storm. As the kidnappers make their demands, Fin's guilt is replaced by a fierce determination to find his sister by whatever means he can, and bring the criminals to justice. But as the drama unfolds, a complex web of family secrets is revealed. It emerges that Ella's kidnapping is revenge for mistakes Fin's father made, years before. The consequences will change all their lives forever.
Information
Format: Paperback
Pages: 208 pages
Publisher: Oxford University Press
Publication Date: 02/06/2005
Category: Adventure
ISBN: 9780192754455
Other Formats
EPUB from £5.19
Paperback from £9.75
Quantity pack from £134.00
Free Home Delivery
on all orders
Pick up orders
from local bookshops
Reviews
Showing 1 - 2 of 2 reviews.
Review by gbartlett
16/06/2015
Fin is supposed to be babysitting with his younger sister, Ella and his little brother Sam, but he decides to go over to his friend's house instead. While he is gone, Ella hears a sound downstairs and when she goes down to investigate, she is kidnapped. As the family searches for Ella, Sam is seeing ghosts and old family secrets come out involving their father. This was a good mystery, included kidnapping, murder, dark stormy nights, ghosts, secrets. Had boys as the main characters, but also a girl, so would appeal to both boys and girls. Took place in England. There were a few English terms, but it didn't disrupt the story. A couple of cuss words, but not bad. Read like a TV mystery.
Review by Knicke
16/06/2015
Sort of an odd book. At first it seemed like it would fall into the Nancy Drew/Hardy Boys unobjectionable mystery category. Then it gets darker. There is some mild cursing, mostly by the dad who turns out to be a character with questionable morals anyway, having covered up an affair, an illegitimate child, and the child's accidental death.I got annoyed with the dowsing trope. It seemed like a really lazy way to propel the story and solve the mystery. It might have worked if there were other supernatural elements in the story. Sam the youngest brother having the dead child as an imaginery friend sort of counts as supernatural, but it is a tired tired way to go. I think it especially didn't work because we saw the whole thing from Sam's minds eye. Would have been more mysterious and interesting to NOT know what Sam was thinking. Maybe a bit overly didactic, but the theme is blackmail and/or things covered up coming to light...a quick, not-terrible read, and something I'd reccommend to a younger teen who wants something with a bit of edge/violence/suspense but nothing too-too graphic.Parents might object to:- swearing- adultery- violence (emotional violence, kid gets manhandled by kidnapper, boy pulls a gun on girl then shoots self)Teens might object to:- Britishisms- dowsing trope (kind of weird and out of place)