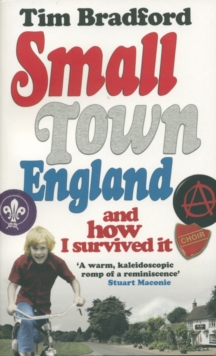 Small Town England : And How I Survived it
Paperback
Description
Tim Bradford is growing up in a small town in Lincolnshire in the 1970s.
Market Rasen is not the most exciting place, but to his teenage mind it was the centre of the universe.
Tim is at that in-between phase between childhood and adolescence, where you are trying to be grown up and get your first snogs whilst at the same time still playing with airfix models and making dens.
Tim takes us through his first crushes, falling in love with the local beauty queen and an elusive Gallic beauty on a French exchange.
His first attempts at getting drunk and trying to impress girls, forming bands which churned out endless numbers of rubbish songs and trying to avoid deckings by the local hards.
Tim and his equally hapless friends are gradually working towards breaking free of their childhoods and moving away from their roots.
Life in this small town was a rollercoaster of mundane happenings. "Small Town" paints a portrait of the energy and melancholy at the heart of our generation, the inability to live for now and the feeling that something better is just around the corner.
Too young (just) to be baby boomers and too English and uncool to call itself Generation X. It's a universal tale about dreams, ambitions, brass bands, cubs, rugby songs, football stickers, tractors, young love, and valve amplifiers connected up to cheap distortion pedals, set at a time of political change and pudding basin hair.
Information
Format: Paperback
Pages: 320 pages
Publisher: Ebury Publishing
Publication Date: 01/04/2010
Category: Memoirs
ISBN: 9780091928773
Free Home Delivery
on all orders
Pick up orders
from local bookshops
Reviews
Showing 1 - 1 of 1 reviews.
Review by MiaCulpa
27/08/2015
"Small Town England" sadly was nowhere near as interesting as I had hoped. For childhood memoirs to be interesting the author must have either lived an incredibly exiting life or be of the calibre of Bill Bryson, Roald Dahl or Gerald Durrell. Bradford fits neither of these criteria."Small Town England" (specifically Market Rasen in Lincolnshire) records Bradford's upbringing, his musical career, school, his crushes and the local bullies. There are references to his family and the like but mostly it's about his musical tastes, which were linked to punk for much of the book. Again, this just wasn't interesting enough to keep me entertained for too long and I had to read this book in a couple of stints.