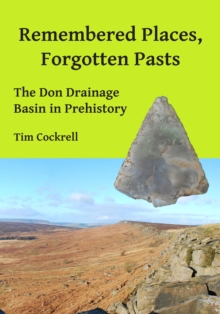 Remembered Places, Forgotten Pasts : The Don Drainage Basin in Prehistory
Paperback / softback
Description
South Yorkshire and the North Midlands have long been ignored or marginalized in narratives of British Prehistory.
In Remembered Places, Forgotten Pasts, largely unpublished data is used for the first time in a work of synthesis to reconstruct the prehistory of the earliest communities across the River Don drainage basin.
The author uses a relational approach to account for the complex and sophisticated interaction between people and materiality.
Monuments and material culture are considered together, in relation to the diverse landscapes across which they were deposited in the distant past.
The memory of significant places along lines of movement are central to the approach taken, combined with the changing character of the land which supported people.
Virtually absent in recent narratives, the forgotten prehistoric pasts of the region are now able to be approached on a systematic basis.
The author concludes that a region that was the centre of dynamic interaction between mobile groups in its earliest phase gave way to a pastoral lifestyle facilitated by extensive wetlands.
These wetlands were connected by waterways and gorges.
Thus connected, the wetlands were located to either side of its drier, centrally defining feature, the Magnesian Limestone ridge.
Information
Format: Paperback / softback
Pages: 236 pages, Illustrated throughout in colour and black & white (10 colour plates)
Publisher: Archaeopress
Publication Date: 31/10/2017
Category: Prehistoric archaeology
ISBN: 9781784917012
Free Home Delivery
on all orders
Pick up orders
from local bookshops