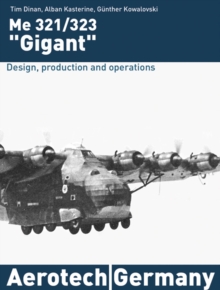 Me 321/323 Gigant : Design, Production and Operations
Hardback
Description
This book is a rare examination of the Luftwaffe's greatest transport aircraft.
The Messerschmitt ME 323 started out as the giant glider ME 321 before evolving as a 6-engined giant transport aircraft, capable of hauling up to 22 tonnes of cargo, including tanks.
Its nickname "Giganten" was very accurate! Initially designed for the ill-fated planned invasion of Great Britain, "Seelowe", it emerged in active service in time for the turning point in the war, Stalingrad 1942.
It was widely used on both the Eastern front 1942 -44 and in the Mediterranean 1942-43.
But as it was big, bulky and slow, it very often became an easy target for allied fighters.
Nevertheless it played an important part in tactical movement of German forces during the latter part of the war.
This book examines in detail the technical aspects of this aircraft, its origins, its design and operational service.
It also describes the various versions of it, including the notorious "Waffentrager" that came into service in 1945.
Me 323 might have been one of the most ugly looking aircraft of the Third Reich but it was a very effective transporter.Had it not been for the mess the Third Reich administration was in, the blunders the RLM (Reich Air Ministry) made, or the catastrophic fuel situation Germany faced late in the war, this advanced aircraft could have had a much bigger effect. Dinan tells the story of the design, development, production and operational use of one of World War II's most mysterious aircraft.
Information
Format: Hardback
Pages: 256 pages, 200 photographs, 16 illustrations, 2 maps
Publisher: Leandoer & Co Forlag
Publication Date: 28/01/2019
Category: Second World War
ISBN: 9789185657070
Free Home Delivery
on all orders
Pick up orders
from local bookshops
Also by Tim Dinan