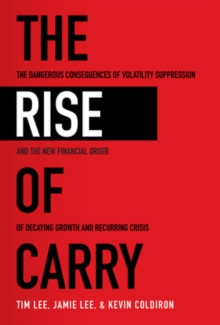 The Rise of Carry: The Dangerous Consequences of Volatility Suppression and the New Financial Order of Decaying Growth and Recurring Crisis
Paperback / softback
Description
A first-of-its-kind primer on markets and the economy-providing the knowledge you need to protect yourself from the next financial meltdown. It's well known that carry trading has been a driving force in financial markets for years.
But carry is actually much more than this. In fact, it has become the primary determinant of the global business cycle.
The first book of its kind, The Rise of Carry explains how financial markets work today, how they relate to the overall economy, the increasingly important role of carry in the overall economy-and how it feeds the never-ending cycles of boom to bust and back again.
The Rise of Carry provides critical but often overlooked foundational knowledge, such as:*The active role stock prices play in causing recessions (as opposed to the common belief that recessions cause price crashes)*The true driving force behind financial asset prices*How carry, volatility-selling, leverage, liquidity, and profitability affect the business cycle*How positive returns to carry over time are related to market volatility-and how central bank policies have acted to supercharge these returns Finally, you'll gain important insight into how the rise of carry is part of a broader phenomenon that includes growing inequality in wealth and power and, by extension, other adverse political and social developments.
While there has been an increasing amount of work in academia on carry trades, this groundbreaking book is a first for investors.
Information
Format: Paperback / softback
Pages: 240 pages
Publisher: McGraw-Hill Education
Publication Date: 17/12/2019
Category: Economics
ISBN: 9781260458404
Also by Tim Lee