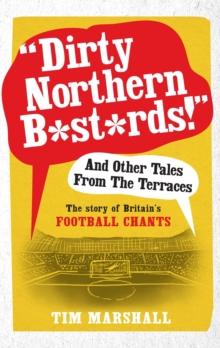 "Dirty Northern B*st*rds" and Other Tales from the Terraces : The Story of Britain's Football Chants
Paperback
Description
"This is a book about football and Britain, and Britain and football.
You can't fully understand one without the other; and if you haven't got a sense of humour it's not worth even trying. "My name's Tim Marshall and it's been a week since my last match.
I support a football club. That's not just five words; it's a life sentence." Why do so many of us attend football grounds, rain or shine, week in week out, to bellow at our fellow countrymen? Because we love it. Football chants are the grassroots of the game, from the Premier League all the way down to the Conference and beyond.
They're funny. And they're sharp. And in the UK they run very deep. In this witty and insightful account, Tim Marshall tells the story of British football through the songs and chants that give it meaning. This is a book about the fans, written for the fans, with all the flair and banter that bring the beautiful game to life.
No other sport has a culture quite like it.
Free Home Delivery
on all orders
Pick up orders
from local bookshops
Reviews
Showing 1 - 1 of 1 reviews.
Review by atticusfinch1048
16/06/2015
Dirty Northern B*st*rds – So MeFor many years following Manchester City when we have travelled south of Crewe I and my colleagues have often been called a dirty northern b*st*rd by some southern softie. At Wembley in the FA Cup semi-final against that lot from the swamp known as Manchester (they don't come from there) United I was called a northern monkey by a United fan with a cockney accent. We won and had the last laugh on the glory hunting idiots. Not that I am biased. Tim Marshall better known too many of us as the Diplomatic Editor on Sky News has let his dirty secret out, he is from Yorkshire and to compound his problems he is a Leeds United fan. I can feel his pain! Tim Marshall has also written a handy little book called Dirty Northern B*st*rds a story of Britain's football chants.I found this book highly amusing as it really does some up the banter, the very deep seated rivalries between football clubs and their fans. Anyone that really wants to understand British football whether it be at the top or down in the non-leagues then it is worth reading this book. Some are based on local rivalry or intercity rivalry or here in the North West of England those of us from Manchester recognise that we are superior to Liverpool and like to put them back in their box!There is some excellent information and background to some of the songs that clubs sing and the irony involved in many of the chants we fans sing. Tim mentions the late 80s and 90s when Arsenal fans used to wave tenners at us City fans and other northern clubs not fantasy but fact having seen it with my own eyes. Now we can remind them that they are nothing more than our feeder club.This is a brilliant way of showing the genesis of some of the songs and chants and how rather than making up tunes we steal them, I know we have no shame. But all the words are of our own making whether it is up at Newcastle or down in the smoke. Scotland has its own chants that can sometimes be a little close to the knuckle but that is football. As Marshall notes the game was originally working class where we went on a Saturday afternoon to let off steam and have a few pints. I can still remember my first experiences of the Kippax and the language heard in there and my dad just saying one day you will understand son. He was right there!This book in a way explains some of the dilemmas a football fan whether it is their sudden rise to glory or in Manchester City's case when we hit rock bottom in the second division we were often told we were no longer famous. Hence the invisible man song we now have. Every club has their own songs and chants and Marshall records a large number of those songs. It is interesting how or why we have our rivalries but the one thing we do have in common is we like singing as one at the game. Long live this book, Dirty Northern B*st*rds really is a wonderful book which will make you laugh and cry in equal measure. This is the background to everything you really need to know about football fans their songs.