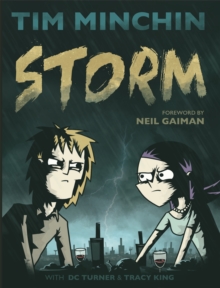 Description
Dazzling illustrated poetry from the magical mind of Tim Minchin.
This is his first ever book and features a foreword from Neil Gaiman.A storm is brewing in the confines of a London dinner party.
Small talk quickly descends into a verbal and intellectual battle between science and belief, as comedian Tim goes head to head with the mysterious fifth guest at the table - a hippy named Storm.With stunning original artwork, Tim's sublime ranty beat-poem weaves through the world we live in, where alternative medicine is given credence and public funding, psychics have primetime TV exposure and people are happy with mystery rather than answers.While Storm herself may not be converted, audiences from London to Sydney have been won over by Tim's lyrical wonders and the timely message of the piece in a society where science is attacked as the enemy of belief.
STORM is the illustrated book born from the acclaimed internet sensation - the animation that has become an anthem for critical thinking worldwide, attracting over three million views.
Now fully reimagined, STORM is a masterpiece that sparkles with beauty, wit, reason and rationality.Watch the video here: http://bit.ly/1s2DUuU
Information
Format: Paperback
Pages: 96 pages
Publisher: Orion Publishing Co
Publication Date: 14/10/2014
Category: Poetry by individual poets
ISBN: 9781409156253
Free Home Delivery
on all orders
Pick up orders
from local bookshops
Reviews
Showing 1 - 1 of 1 reviews.
Review by wyvernfriend
02/03/2016
Actually science is a three-fold state, true, false, not proven and there are things that exist in a steady state of must be poked until we find out the truth. The idea that everything is known is a fallacy, but otherwise I get this rant. I have used tarot cards with people to help them discuss an issue and basically let their subconscious talk to them (for the princely sum of a cup of coffee, mostly because our society has made it that if you don't charge people don't concentrate or take things seriously, yeah capitalism).I believe that things should be examined and that harmful things should be examined harder, that placebo has it's place and that truth is slipperier than I want. I do believe that we treat a lot of things too lightly and don't allow for the power, that we give away our power too much to people who only want our money and that modern drugs are a wonderful thing, they cured my cancer and keep my husband moving through his psoriatic arthritis, but I also see people being lost in a fog of medication where other avenues for wellness have been ignored. I was offered anti-depressants while undergoing chemotherapy when I admitted that there were days I felt overwhelmed and a bit down about it all, before being offered counselling or other choices, and of course I was a bit depressed by it all, I was 32, damn it, and facing my mortality.Worth a read but probably preaching to the choir.