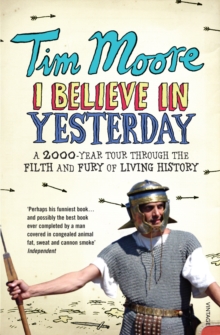 I Believe In Yesterday
Paperback
Description
In 1989, Tim Moore moved into the last house in Chiswick with an outside toilet.
Intrigued by a subsequent encounter with an elderly former resident, he finds himself inspired to travel back to the land before now, experiencing the hardships and pleasures enjoyed and endured by Moores gone by.
The journey that follows takes him through the world of historical re-enactment: living on bramble leaves, Johnny cake and porridge, Moore travels from the Iron Age to the Steam Age, from Roman legionary to Tudor master to Yankee spy, sharing straw beds and daft hats with period obsessives driven by socio-historical curiosity, disillusionment with the modern world, or a simple nostalgia for campfires, flatulence and brutality.
I Believe in Yesterday is an odyssey through 2,000 years of filth and fury, to a time where men were men, the nights were black, the world was your outside toilet and everything tasted faintly of leeks.
Information
Format: Paperback
Pages: 256 pages
Publisher: Vintage Publishing
Publication Date: 02/07/2009
Category: General & world history
ISBN: 9780099492986
Free Home Delivery
on all orders
Pick up orders
from local bookshops
Reviews
Showing 1 - 1 of 1 reviews.
Review by candlemark
16/06/2015
An absolutely hilarious history of living history and reenactment. It's a little rough going for anyone not familiar with Britishisms and popular British culture, but if you're an Anglophile, you'll find your feet in no time - which is more than can be said for the author, who found himself slipping and sliding in all manner of mud and muck on his several-century excursion through living history.From 900AD British villages to Roman reenactors in Denmark to the American Civil War period, Moore covers it all, in increasing verisimilitude. All the while, he notes that he's really not cut out to be anything other than a modern man - even though he rejoices in some of the simpler pleasures of life in earlier times, particularly when they involve gunpowder and artillery. It's not a terribly "big picture" book - there's only a few paragraphs strewn throughout that attempt to make more of this adventure than merely an adventure, proclaiming that modern man is rather soft and we've gotten out of touch with our pre-technological (heck, our pre-plumbing) roots. But honestly, that makes it better - rather than preaching the merits of latrines and "toughening up," the book simply focuses on living out various periods of our past, and does so in an intensely engaging manner.A must-read for anyone interested in history, living or not.