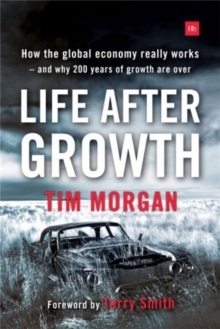 Life After Growth : How the Global Economy Really Works - and Why 200 Years of Growth are Over
Paperback / softback
Description
NEW PAPERBACK EDITION WITH ADDITIONAL INTRODUCTION AND END NOTE FROM THE AUTHOR Why, years after the banking crisis, is the global economy still mired in recession and burdened by enormous debts?
Why have the tried-and-tested economic policies of the past failed us this time?
In Life After Growth, leading City analyst Tim Morgan sets out a ground-breaking analysis of how the economy really works.
Economists are mistaken, he argues, when they limit their interpretation of the economy to matters of money.
Ultimately, the economy is an energy system, not a monetary one.
From this, it follows that we need to think in terms of two economies, not one - a 'real' economy of work, energy, resources, goods and services, and a parallel, 'financial' economy of money and debt.
These two economies have parted company, allowing the financial economy to pile up promises that the real economy cannot meet.
Starting with the discovery of agriculture, Tim Morgan traces the rise of the economy in terms of work, energy and resources.
The driving factor, he explains, has been cheap and abundant energy. As energy has become increasingly costly to obtain, the potential for prosperity has diminished, to the point where growth in the real economy has ceased.
An immediate problem is that our commitments - including debt, investments and welfare promises - cannot be honoured, which means that we can expect the financial system to be wracked by value destruction.
At the same time, we need to adapt to a future in which prosperity can no longer be taken for granted.
Information
Format: Paperback / softback
Pages: 192 pages
Publisher: Harriman House Publishing
Publication Date: 03/10/2016
ISBN: 9780857195531