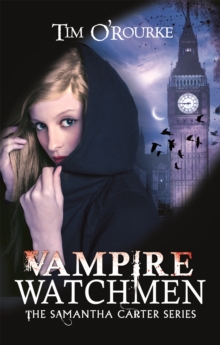 Vampire Watchmen
Paperback / softback
Description
The second addictive adventure in Tim O'Rourke's acclaimed Sammy Carter seriesIt's been a year since Samantha Carter blasted back to 1888, barely escaping with her life.
Now, returned to present-day London with only her nymphomaniac flatmate for company, she's starting to believe that everything - the blood-curdling vampires, her strange and sudden skills with a gun, even her mysterious lover Harry - was nothing but a dream. Just when Sammy is about to lose all hope that her friends and memories were real, it finally happens again.
This time she's pulled back to a city she does not recognise: a London in the grip of a terrible plague, where death haunts the night and a deeper, darker threat lurks underground, waiting for its chance . . . Fighting side by side with her friends once again, Sammy encounters horrors beyond her imagining; yet what really terrifies her are the endless questions, one most of all: who is she really?
Torn between the life she longs for and the life she can believe in, Sammy must decide whether she's brave enough to risk everything, even her heart . . . 300,000 books sold4000 five star reviewsDiscover an underground phenomenonDiscover Tim O'Rourke'A definite 4 stars.
I hugely recommend it to those who already love supernatural genres, go get reading!' -The Guardian'I don't think he could write a bad book if he tried at this point.' - Goodreads'I need to read the sequel right now.
I cannot wait for the release date!' - A Readers Review Blog'Vampire Shift will leave you on the edge of your seat, gripping your Kindle.' - Paranormal Wasteland Book Reviews'Do not think you can just read this book . . . no, you cannot, you will live in it . . . you will fall into it and be a part of the story.' Delirium.blogspot.com Book Reviews
Information
Format: Paperback / softback
Pages: 304 pages
Publisher: Little, Brown Book Group
Publication Date: 06/11/2014
Category: Horror & ghost stories
ISBN: 9780349402147
Free Home Delivery
on all orders
Pick up orders
from local bookshops
Also in the Samantha Carter series