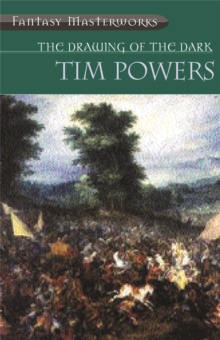 The Drawing of the Dark
Paperback
Description
When Brian Duffy, an ageing soldier of fortune, is recruited in Venice by a strange old man to work as a bouncer in Vienna at an inn where the fabulous Herzwesten beer is brewed, everything seems straightforward.
But his journey is far from it. Pursued and attacked from all sides, guarded and guided by creatures of myth, Duffy is no sooner in Vienna than the city is besieged by the turkish armies of Suleiman. And it becomes apparent that Duffy's presence is no accident and that it is up to him to preserve the West until the drawing of the dark ...
Information
Format: Paperback
Pages: 336 pages
Publisher: Orion Publishing Co
Publication Date: 14/11/2002
Category: Fantasy
ISBN: 9780575074262
Other Formats
EPUB from £4.99
Paperback from £10.45
Free Home Delivery
on all orders
Pick up orders
from local bookshops
Reviews
Showing 1 - 4 of 4 reviews.
Review by diehardkev
16/06/2015
A friend once told me to put this to the top of my reading pile. On taking his advice, I quickly saw why. Drawing on Celtic mythology, Powers' natural storytelling ability demonstrates how very much missed a strong, heroic lead character is in today's fantasy writing.
Review by wyvernfriend
16/06/2015
Brian Duffy, an Irish soldier of fortune, finds that Venice isn't that healthy for him and when he's offered the job of bouncer for a tavern in Vienna that brews it's own, along with a healthy wage, he jumps at the chance. Unfortunately for Brian, what he thought would be a retirement turns out to be a war between, not only the physical armies, but also the forces of good and evil and he has a pivotal role in this fight.Interesting look at the war in Vienna between Austria and Turkey with reincarnated heroes and the people of the time trying to be themselves and resist the overshadowing by the archetypes. Although more mythic than fantastic (that border is kinda fuzzy in my head) I found Ash (by Mary Gentle) better book of this type. The characters felt very real and were well fleshed out people with motives and problems and their lives got complicated by action or inaction.
Review by pauliharman
16/06/2015
An entertaining well-paced novel set in the 1500's at the seige of Vienna. Powers throws in various mythologies and blends them together into an enjoyable narrative.
Review by isabelx
16/06/2015
Battles, beer, broken swords and burial mounds.Tim Powers uses familiar mythological characters and themes to create a truly original story, with the mystical elements of the story slotting seamlessly into the realistic historical setting of Vienna in 1529. I never come away from one of his books thinking I've read it before, nor does he feel the need to stretch a story over twelve volumes when one will do.While the citizens of Vienna and their hired mercenaries prepare for a siege and wonder why the Turks are attacking so late in the year, other forces are at work. Something older and more mysterious than the clash between the Ottoman Empire and the Holy Roman Empire. The mystical king of the West is wounded and his weakness affects the land, so the East is in the ascendant. The forces of the East head for Vienna, intending to prevent the king's health from being renewed on All Hallow's Eve, while the heroes of the West, as remembered in myth and story across Europe, converge on Vienna to protect the wounded king and make a last stand against the East. They make their headquartes at the millennia-old Herzwesten brewery, which has been protected over the years by a Roman fort, a monastery and then an inn.The hero of the book, Brian Duffy, is a middle-aged mercenary, battle-hardened, disappointed in love and not keen on believing in the supernatural, even though he has had strange experiences since boyhood. He is relieved to realise that the brocken spectre that he sees on his way across the Alps is a natural phenomenon, and dismayed when it is immediately followed by the ghostly shapes of legendary creatures. He is much better equipped to face the human assassins sent to prevent him from reaching his destination, than the strange creatures, both friendly and unfriendly, that dog his path on his journey from Venice to Vienna. Duffy is an amusingly stroppy hero, never willing to do anything just because Aurelianus tells him to. One of the funniest things in the book is Aurelianus' shock at Duffy's reaction to being given a legendary sword after his own is broken: ". . . if I were going to use this in combat, I'd want the blade narrowed and shortened by at least a foot, the grip shortened by five inches, and a solid bellguard welded around this crosspiece. . . I think I'd be more comfortable with a regular rapier, thanks. Save this for scything wheat.
Also in the Fantasy Masterworks series | View all