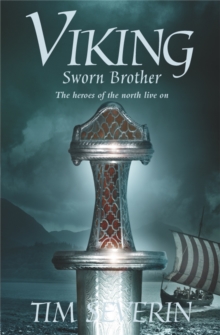 Viking 2 : Sworn Brother
Paperback
Part of the Viking series
Description
London, 1019: a few months have passed since Thorgils has escaped the clutches of the Irish Church only to find himself at the centre of a capricious love affair with Aelfgifu, wife of Knut the Great, ruler of England, and one of the most powerful men of the Viking empire.
A passionate relationship between two unlikely lovers begins to unfold, which forebodes uncontrollable consequences...When Thorgils is finally on the run again, he meets Grettir, an outlaw who is feared by most for his volatile and brooding behaviour.
The two men become travel companions and sworn brothers -- which binds them together beyond death.
At the gates of Byzantium Thorgils' loyalty is put to the ultimate test...Sworn Brother continues an utterly compelling journey back in time to a world that is brimming with wonderfully crafted characters and their insatiable hunger for riches and renown.
Information
Format: Paperback
Pages: 400 pages
Publisher: Pan Macmillan
Publication Date: 04/11/2005
Category: Historical fiction
ISBN: 9780330426749
Free Home Delivery
on all orders
Pick up orders
from local bookshops
Reviews
Showing 1 - 2 of 2 reviews.
Review by DavidBurrows
16/06/2015
I enjoyed this. It had a reak Viking feel to it. It's a number of hort tales about the cetral character interwoven into one story. It's a pleasant read rather than a page turner.
Review by Speesh
16/06/2015
'Sworn Brother', is number two in the 'Viking' series and is another excellent read. A good story, nicely written and exhaustively researched.<br/>I thought at one point that it could perhaps do with having a bit more blood and thunder in it, but then I'm probably criticising it unfairly. I have, after all, just come off two rather more violent Viking sagas (by Robert Low and Giles Kristian). This is a whole different animal.<br/>'Sworn Brother' and the 'Viking' series, is more of a thorough examination of the whole Viking Age. It is clear that Tim Severin has done his research and wants to show it - and wants us to learn.<br/>The main character continues with his telling of his life and events (as though his saga has been found and read by a hostile Christian priest). He continues his journey around the known Viking world. Previously he was in Iceland, Greenland, Vinland and back, now he's off to Iceland again, several times, Norway, Denmark, Sweden (possibly), then into the far north, what is now Finland, then on to the east, (today's) Russia and down to Byzantium and the Arab world. All thoroughly possible in the Viking Age. There is a hint of what's to come in the final instalment and it also fits - though it would seem Mr Severin was incredibly lucky he found a Viking who got himself involved in so many pivotal events of the Viking era...<br/>I thoroughly enjoyed this one and can recommend it to anyone with even a passing interest in the Vikings, their times, customs, beliefs and adventurous spirit.