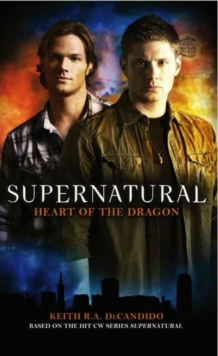 Supernatural - Heart of the Dragon
Paperback
Description
This is a supernatural novel that reveals a previously unseen adventure for the Winchester brothers, from the hit ITV series!
Twenty-three years ago, Sam and Dean Winchester lost their mother to a demonic supernatural force.
Following the tragedy, their father taught the boys everything about the paranormal evil that lives in the dark corners of America...and how to kill it.
Bobby Singer alerts Sam and Dean to a series of particularly brutal killings in San Francisco's Japantown.
It's been 270 new moons since the last time, and it looks like the Heart of the Dragon is back...
Information
Format: Paperback
Pages: 320 pages
Publisher: Titan Books Ltd
Publication Date: 16/02/2010
Category: Crime & mystery
ISBN: 9781848566002
Free Home Delivery
on all orders
Pick up orders
from local bookshops
Reviews
Showing 1 - 3 of 3 reviews.
Review by Dalziel
16/06/2015
Not a bad book, at least a smattering of Castiel in it as well as some other angels, but there is also only a smattering of Sam and Dean. Much of it is set with other characters and in other times, including back in John Winchester's time. Not a bad book, and the ideas are good, but ideally I'd like more of the main characters.
Review by vampiregirl76
16/06/2015
The Winchester Brothers have learned that the Heart of the Dragon is back. Two generations of their family have fought and failed to kill this ancient evil. Will the boys succeed or end up repeating history.I love this show, but I'm way behind in episodes. This is the first time I've read one of the Supernatural novelizations. I did find this story enjoyable. A fast read. Not as exciting as watching the show but still entertaining. Heart of the Dragon has all the elements that we have come to love about the TV show... mystery, danger and of course the paranormal factor. I loved that the book went back and forth between the present and the past. The only thing I missed was the visuals of the Winchester Brothers themselves.**The 2009 portions of this novel take place shortly after the episode Changing Channels, during the fifth season.
Review by SparklePonies
16/06/2015
An ancient Japanese spirit has been summoned to kill people in San Francisco every twenty years since 1969, when Sam and Dean's own grandparents and mother were originally on the case, and now it is up to them to banish this thing for good. I actually enjoyed this book, even though the whole thing wasn't centered around Sam and Dean. It covers the time the Campbell's hunted the spirit, as well as when John Winchester hunted it in 1989 and the boys were just children. It got a little confusing at times - What decade is this taking place again? What are the angels doing here? Who is this? - but in all, I thought it was a nice change of pace.