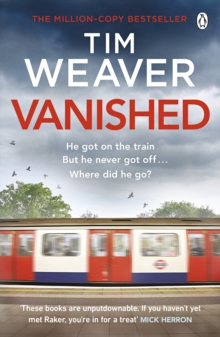 Vanished : David Raker Missing Persons #3
Paperback
Description
He got on the train. He didn't get off. So where did he go?For millions of Londoners, the morning of 17 December is just like any other.
But not for Sam Wren. An hour after leaving home, he gets onto a tube train - and never gets off again.
No eyewitnesses. No trace of him on security cameras. Six months later, he's still missing.Out of options and desperate for answers, Sam's wife Julia hires David Raker to track him down.
Raker has made a career out of finding the lost. He knows how they think. And, in missing person cases, the only certainty is that everyone has something to hide.But in this case the secrets go deeper than anyone imagined.For, as Raker starts to suspect that even the police are lying to him, someone is watching.
Someone who knows what happened on the tube that day. And, with Raker in his sights, he'll do anything to keep Sam's secrets to himself . . .From the bestselling author behind the chart-topping podcast Missing, this mystery is perfect for fans of Clare Mackintosh's I See You and Jo Nesbo's The Thirst.'Weaver's books get better each time - tense, complex, written with flair as well as care' Guardian'A fluent and assured piece of crime fiction . . . Tim Weaver ties in the apparently divergent events with convincing ease' Crime Fiction Lover
Information
Format: Paperback
Pages: 512 pages
Publisher: Penguin Books Ltd
Publication Date: 01/07/2012
Category: Crime & mystery
ISBN: 9780241954409
Free Home Delivery
on all orders
Pick up orders
from local bookshops
Reviews
Showing 1 - 3 of 3 reviews.
Review by teresa1953
16/06/2015
Well this had me hooked from the first page!David Raker is a compelling and fascinating character. "Vanished" is the third David Raker novel. Having not read the first two did not diminish the story for me and that is the sign of a very talented writer.Set in London and around the Tube station network, the mystery unfolds with one man's disappearance from a train journey. Sam Wren gets on a tube train one morning in December, and never gets off again. He vanishes in to thin air. His wife hires David Raker, a private investigator, to try and trace him or discover what happened to him. But Sam isn't the only man to vanish. Men are disappearing from their homes There is no sign of them, no forensic evidence....just a pile of shaved hair at the bottom of their beds. The police don't think the two disappearances are connected, but Raker isn't so sure.The pace of this novel is relentless. Tim Weaver manages to leave the reader almost breathless, so great is his descriptive writing and sense of malevolence. I found myself frantically turning the pages to see how things panned out. Weaver isn't frightened of dealing with frankly ghastly characters living on the fringes of society, but he doesn't sensationalise, just builds the tension more and more. I was literally scared and gasped on more than one occasion and it takes a lot to scare me.Now I just have to buy the first and second David Raker novels!
Review by maz74
16/06/2015
How does a man get on to a busy London tube train only to never be seen again? This is the mystery that private investigator, David Raker is hired to solve.Vanished initially feels like a mystery straight from the pages of Agatha Christie or an episode of Jonathan Creek, and I loved this aspect of it. Gripping from start to finish, Weaver masterfully spins a web of suspense and intrigue, with some pretty gruesome violence thrown in for good measure. The characters are believable and likeable, and Weaver interlinks their personal stories with skill. The highlight for me however was the end. Not only was it brilliant with twists and turns galore, but it was also brave, and I wish more authors would give their finales a more realistic approach.As far as crime novels go, this is typical of the genre, but better. I will undoubtedly be picking up one of Tim Weaver's books again soon.
Review by Randall.Hansen
27/08/2015
I absolutely love Tim Weaver's David Raker novels. Raker is a former journalist who now finds people who go missing. Weaver is brilliant at weaving an intricate story filled with thrilling twists and turns. Vanished is a book you never want to stop reading -- yet one you don't want to end either. He's a bigger hit in the UK, but expect to hear more of him in the U.S. as his star power gets noticed here. If you love thrillers, read this and his other novels.
Also in the David Raker Missing Persons series | View all