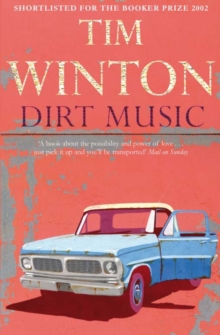 Description
'Generous, earthy and raw ...Mysteries don't come more heartfelt than this' Independent Georgie Jutland is a mess.
At forty, with her career in ruins, she finds herself stranded with a fisherman she doesn't love and two kids whose dead mother she can never replace.
Her days have fallen into domestic tedium and social isolation.
Her nights are a blur of vodka and pointless loitering in cyberspace.
One morning, in the boozy pre-dawn gloom, she looks up from the computer screen to see a shadow lurking on the beach below, and a dangerous new element enters her life.
Luther Fox, the local poacher. Jinx. Outcast. So begins an unlikely alliance. Set in the wild landscape of Western Australia, this is a novel about the odds of breaking with the past, a love story about people stifled by grief or regret, whose dreams are lost, whose hopes have dried up.
It's a journey across landscapes within and without, about the music that sometimes arises from the dust. 'Winton keeps writing fiction that makes the novel feel alive to a continent of possibilities' Evening Standard 'Winton is not a great Australian novelist; he is a great novelist, full stop' The Times
Information
Format: Paperback
Pages: 480 pages
Publisher: Pan Macmillan
Publication Date: 04/07/2003
ISBN: 9780330490269
Free Home Delivery
on all orders
Pick up orders
from local bookshops
Reviews
Showing 1 - 5 of 5 reviews.
Review by MelmoththeLost
16/06/2015
Well this was a splendid read, and particularly enjoyable for the vividness with which Winton conjures up images of the coast and small towns of Western Australia and lush tropical northern coast of the continent. The interplay of the relationships between the three central characters and the roles of their respective pasts and backgrounds in shaping the action of the novel is very well handled indeed, and the characters themselves are never less than engaging as human beings even at those points when you'd probably rather not know them if they were your neighbours.Winton's another new author to me whose work I'd like to read more of.
Review by maggieball
16/06/2015
Dirt Music is one of those books that gets under your skin. Comes into your bed with you; changes your dreams; travels with you throughout the mundane details of everyday life. Winton's descriptive prose works both externally in its depiction of the natural land - the sea and desert of Western Australia which makes up its setting, and internally, in the way it goes deep inside the pain and anxieties of its characters, as they struggle to free themselves from tremendous damage, and paralysis.
Review by liehtzu
16/06/2015
Brilliant book with extraordinary stark yet poetic prose. I've never been to Western Australia but I swear I could smell the place - and the people! I loved his flawed and human characters. My only complaint is that a glossary of Aussie slang would not have gone astray.
Review by debnance
16/06/2015
Bleak story of bleak characters in a bleak world that seemed very honest. Recommended.
Review by russwood
16/06/2015
Despite the quality of the writing, I could find no compelling reason to finish this book. There were no characters to cheer for, none that I wanted to see secure or safe, and none that I really identified with. The characters were well developed, and like real people, had their weaknesses and laudable qualities; however, there were none that I liked, and I found many of the actions of most main characters frustrating and at times reprehensible.<br/><br/>It is a cleverly-written book, but I found the language and events too jarring to continue past the three-quarter mark.