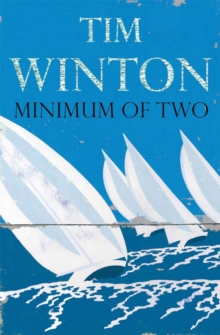 Description
'These stories are a wonderful introduction to his quirky fictional world -- gutsy, funny, lyrical but unpretentious Independent Tim Winton's second short-story collection explores the complexity of human relationships through the themes of futility and hope, revenge and redemption, birth and death that twist through each tale in turn, emerging, re-emerging, competing, conflicting.
As characters, too, surface and reappear, their lives are slowly, painstakingly revealed.
Through frozen moments and stolen glances, their stories -- and histories -- are told, their emotions exposed, their souls stripped bare.
Threaded together by Tim Winton's haunting prose, the tales in Minimum of Two ultimately offer an optimistic view of the world in which we live. 'Winton ...writes with a muscular looseness which is suited perfectly to the people and places he is describing' The Times 'Tim Winton has cracked something essential about modern Australia: how to find meaning in the intimate and terrible parts of contemporary family life, set against a landscape which is inhumanly vast' Evening Standard 'The vividness and clarity that Mr Winton responds to in nature are also beautifully embodied in his own writing' The Economist
Information
Format: Paperback
Pages: 168 pages
Publisher: Pan Macmillan
Publication Date: 04/07/2003
ISBN: 9780330412629
Free Home Delivery
on all orders
Pick up orders
from local bookshops
Reviews
Showing 1 - 2 of 2 reviews.
Review by kyuuketsukirui
16/06/2015
I enjoyed these stories, but I wasn't as blown-away as I was with The Turning.
Review by BlackSheepDances
16/06/2015
Minimum of Two was an ordinary paperback that I spent an ungodly amount of money on, as it is out of print. I feel like it needs its own safety deposit box. However, once I began I was not disappointed, it was flawless. It is similar to his collection of short stories, The Turning. But this selection is a bit different. All but two of the shorts deal with the same family, and as always he shows differing viewpoints of different events and times. It starts with a young boy dealing with his parents divorce, then the other stories are from the standpoint of the father at different points in his life: dating, newlywed, out of work, dealing with his father's illness, etc. They aren't in any chronological order, so it takes reading them all to see the complete story of the family. I like that there are gaps left unexplained so you can ponder what actually happened. It's never a happily ever after story with Winton, and this too has it's sadness and poignancy. What I liked though was how, as I already know how fast life can change, as an individual I can only look back and forward in my own life. In this set of stories, I could see his life, backwards and forwards, and see what the main character couldn't see: all his options and choices and how they turned out. Great book!!!!