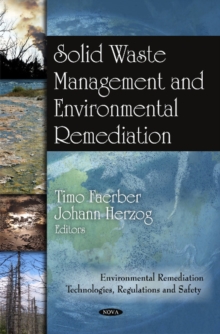 Solid Waste Management & Environmental Remediation
Hardback
Description
Despite significant improvements in pollution abatement and environmental remediation over the past several decades, billions of people around the world continue to live in unsafe and unhealthy physical environments with great risks to their health.
Environmental issues concerning wastewater treatment in particular are quite considerable.
The authors of this book take a deeper look at the contaminated soils and waters which pose major environmental, agricultural and human health problems world-wide.
Alternatives for the sewage sludge final disposal from the wastewater treatment are also assessed from a life cycle assessment (LCA) point of view in order to identify the best environmental alternative.
In addition, the generation of solid wastes constitutes a serious environmental problem, particularly in Cuba, where there is no waste selection system, so wastes from different origins are buried in landfills.
This book explores recent research done on municipal solid waste (MSW), specifically based in Havana Cuba.
Furthermore, as explained in this book, one of the possible alternatives for reducing the contaminant load from solid waste is that of reuse/recycle.
A brief report on the development of electrodes (Carbon resin) from solid wastes is included in an attempt to encourage recycle and reduce environmental pollution through discarded batteries.
Other chapters in this book report on an investigation conducted on iron doped carbon resin electrodes, municipal solid waste (MSW) management in Cameroon, effective and efficient litter management in nations with beaches, a report on medical wastes management in selected hospitals and environmentally safe methods to remediate mercury contaminated soils.
Information
Format: Hardback
Pages: 532 pages, Illustrations
Publisher: Nova Science Publishers Inc
Publication Date: 01/11/2010
Category: Waste management
ISBN: 9781607417613
Free Home Delivery
on all orders
Pick up orders
from local bookshops