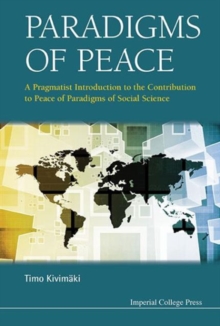 Paradigms Of Peace: A Pragmatist Introduction To The Contribution To Peace Of Paradigms Of Social Science
Hardback
Description
Knowledge can create peaceful realities in addition to serving as an intellectual tool for peace-making.
This is why pragmatist assessment of social science should avoid looking exclusively at the instrumental value of different paradigms.
This book investigates the realities that positivism, anti-determinism, symbolic interactionism, social constructivism and critical theory create, and the tools they offer for a peace researcher and a peace practitioner.
In essence, Paradigms of Peace looks at what social science can give to the humanity's search for peace and then offers an agenda for peace research.Using constructivist pragmatist metatheory to guide the assessment of the merits of different social science approaches to peace, this book suggests completely new ways of looking at the theory of peace and war.
Difficult theoretical and philosophical constructs are presented but always supplemented with real-life examples, making it practical and relevant to both a research and policy-making level.Perfect for students and professionals of international relations, political science, peace and reconciliation studies, conflict and war studies and history.
Free Home Delivery
on all orders
Pick up orders
from local bookshops