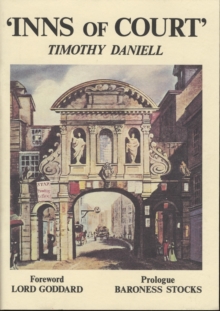 Inns of Court
Paperback / softback
Description
This walker's guide to London's unique Inns of Court gives just the right amount of information to encourage the visitor to look more closely at these ancient centres of tranquillity and charm. Several centuries ago the Inns of Court were any of a sizable number of buildings or precincts where barristers traditionally lodged, trained and carried on their profession.
Over the centuries the number of active Inns of Court was reduced to the present four: Gray's Inn, Lincoln's Inn, The Inner Temple and The Middle Temple.
Lincoln's Inn is able to trace its official records to 1422.
However, by tradition, none of the Inns claims to be the oldest of the four.
The Inns are near the western boundary of the City of London; nearby are the Royal Courts of Justice.
Each Inn is a substantial complex usually with a great hall, chapel or church, libraries, gardens, sets of chambers for many hundreds of barristers covering several acres.
The layout is similar to that of an 'Oxbridge' college.
The 'chambers' were originally used as residences as well as business premises by many of the barristers, but today, with a small number of exceptions, they serve as offices only.
The four inns are close to one another in central London.
Middle Temple and Inner Temple are liberties of the City of London, which means they are within the historic boundaries of the City but are not subject to its jurisdiction.
They operate as their own local authorities. These two inns neighbour each other and occupy the core of the Temple area.
Gray's Inn and Lincoln's Inn are also near the boundary with the City of London.
Tim Daniel's popular guide to the Inns of Court, now approaching its fortieth year in print, offers an easy to use and portable reference aid.
Tim's lively writing style invites further investigation and gently encourages the reader to delve more deeply into the histories and occasional mysteries of these fascinating enclaves of legal learning.
Information
Format: Paperback / softback
Pages: 60 pages
Publisher: Wildy, Simmonds and Hill Publishing
Publication Date: 31/12/1971
Category: Laws of Specific jurisdictions
ISBN: 9780854900190
Free Home Delivery
on all orders
Pick up orders
from local bookshops