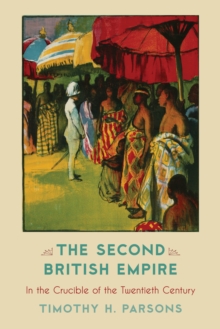 The Second British Empire : In the Crucible of the Twentieth Century
Hardback
Description
At its peak, the British Empire spanned the world and linked diverse populations in a vast network of exchange that spread people, wealth, commodities, cultures, and ideas around the globe.
By the turn of the twentieth century, this empire, which made Britain one of the premier global superpowers, appeared invincible and eternal.
This compelling book reveals, however, that it was actually remarkably fragile.
Reconciling the humanitarian ideals of liberal British democracy with the inherent authoritarianism of imperial rule required the men and women who ran the empire to portray their non-Western subjects as backward and in need of the civilizing benefits of British rule.
However, their lack of administrative manpower and financial resources meant that they had to recruit cooperative local allies to actually govern their colonies.
Noted historian Timothy H. Parsons provides vivid detail of the experiences of subject peoples to explain how this became increasingly difficult and finally impossible after World War II as Africans, Asians, Arabs, and West Indians rejected the imperial notion that they were inferior and refused to be ruled by foreigners.
Yet he also shows that the transformation of the British colonies into nation-states was not just a transfer of political power.
The new postcolonial societies blended British political, economic, and social institutions with local norms and values in the new nations, while mass migration to Britain from the non-Western parts of the Commonwealth created a much more diverse and plural metropolitan society.
This book tells the dramatic story of how the British Empire and its demise accelerated and strengthened globalization by creating webs of commerce, migration, and cultural exchange that linked Britons and their former subjects in new ways and produced blended transnational cultures that were British in origin but no longer British in character or style.
Information
Format: Hardback
Pages: 282 pages, 2 Illustrations, black and white
Publisher: Rowman & Littlefield
Publication Date: 07/08/2014
Category: British & Irish history
ISBN: 9780742520509
Other Formats
Paperback / softback from £18.65
EPUB from £70.20
Free Home Delivery
on all orders
Pick up orders
from local bookshops
Also in the Critical Issues in World and International History series | View all