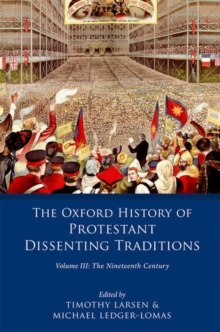 The Oxford History of Protestant Dissenting Traditions, Volume III : The Nineteenth Century
Hardback
Description
The five-volume Oxford History of Dissenting Protestant Traditions series is governed by a motif of migration ('out-of-England').
It first traces organized church traditions that arose in England as Dissenters distanced themselves from a state church defined by diocesan episcopacy, the Book of Common Prayer, the Thirty-Nine Articles, and royal supremacy, but then follows those traditions as they spread beyond England -and also traces newer traditions thatemerged downstream in other parts of the world from earlier forms of Dissent.
Secondly, it does the same for the doctrines, church practices, stances toward state and society, attitudes toward Scripture, and characteristic patterns of organization that also originated in earlier English Dissent, but that haveoften defined a trajectory of influence independent ecclesiastical organizations. The Oxford History of Protestant Dissenting Traditions, Volume III considers the Dissenting traditions of the United Kingdom, the British Empire, and the United States in the nineteenth century.
It provides an overview of the historiography on Dissent while making the case for seeing Dissenters in different Anglophone connections as interconnected and conscious of their genealogical connections.
The nineteenth century saw the creation of a vast Anglo-world which also brought AnglophoneDissent to its apogee.
Featuring contributions from a team of leading scholars, the volume illustrates that in most parts of the world the later nineteenth century was marked by a growing enthusiasm for the moral and educational activism of the state which plays against the idea of Dissent as a static,purely negative identity.
This collection shows that Dissent was a political and constitutional identity, which was often only strong where a dominant Church of England existed to dissent against.
Information
Format: Hardback
Pages: 568 pages
Publisher: Oxford University Press
Publication Date: 25/05/2017
Category: British & Irish history
ISBN: 9780199683710
Free Home Delivery
on all orders
Pick up orders
from local bookshops
Also in the The Oxford History of Protestant Dissenting Traditions series