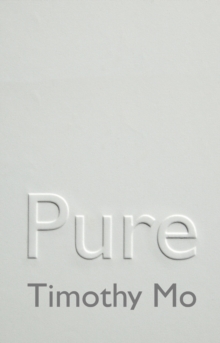 Description
Timothy Mo's first novel in a decade is set within the battle for secession in the Muslim regions of southern Thailand.
Pure covers epic expanses of time and is told through narrators who range from fanatical zealots to decorated Oxbridge dons.
Everything that Mo's readers expect abound in this long-awaited novel: versatile style, memorable characters, insight into those tormented by dual loyalties and the ability to handle the weightiest of themes with a light touch.
By examining the cultural wars of the past and present, Pure's themes are among the most important of the day.
Information
Format: Hardback
Pages: 392 pages
Publisher: Turnaround Books
Publication Date: 12/04/2012
ISBN: 9781873262795
Free Home Delivery
on all orders
Pick up orders
from local bookshops
Reviews
Showing 1 - 1 of 1 reviews.
Review by kidzdoc
16/06/2015
The first novel to be written by Timothy Mo in over 10 years is set in contemporary Thailand, and the main character is Ahmed, who prefers to be called Snooky, a narcissistic ladyboy (transvestite) from a Muslim family in southern Thailand who does drugs on a regular basis and steals from upscale stores and <strike>his</strike> her straight male clients to support her decidedly non-Islamic lifestyle in the heart of Bangkok. She and her fellow <i>katoeys</i> are caught by vice squad officers <i>in flagrante delicto</i> during a drug fueled orgy, and Snooky is beaten and imprisoned after she taunts them. In exchange for her release from charges that could send her to prison for decades, she provides the vice squad with valuable information and agrees to work as an undercover agent for a local Islamic school that is suspected of carrying out acts of terror.The novel consists of chapters narrated by the key characters: Snooky; Victor, a pompous Oxbridge professor and former British intelligence agent in Southeast Asia; Shakyh, the Pakistani mastermind of the Islamic school; and Umar, the school's spiritual leader, who secretly despises Shakyh and <strike>Snooky</strike> Ahmed. Victor's main purpose is to provide a historical backdrop for the rise of Muslim extremism in southeast Asia; Shakyh also serves in that role in addition to planning the group's increasingly more violent acts. Snooky becomes more radicalized, while she hides but doesn't disavow her ladyboy identity or her drug habit, and walks a dangerous tightrope as she provides the police with information about the group, knowing that she will meet a painful death if she is uncovered.<i>Pure</i> is an interesting novel about the political history of Thailand and the rise of Islamic activity in southeast Asia. However, I found the novel to be overly clever and rather unfocused, one which would have benefitted from an experienced editor, which this book apparently didn't have. It has received rare reviews, and I wouldn't be surprised if it was selected for the upcoming Booker Prize longlist, but I would be disappointed if it did.