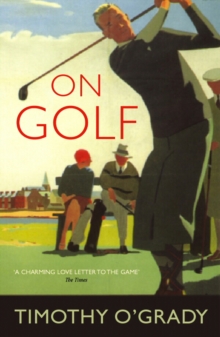 On Golf
Paperback / softback
Description
Weather, hazards, poor coordination, erratic biorhythms, hangovers, an unruly mind and statistical improbability - these are just a few of the obstacles to hitting a pure golf shot.
Che Guevara, Alice Cooper, Dennis Hopper, and Tiger Woods have all struggled with the above to a greater or lesser degree. And, since being initiated as a child into the arcane mysteries of the game of golf, Timothy O'Grady too has carried in his mind an obsession with the sport, shrugging off its social unacceptability and embracing its history, its literature and his own private battle with the club.
For O'Grady, the obsession has, at times, been all-consuming and On Golf is structured around a personal history - how his father played and taught him, how the game dominated his teenage years, and how father and son continued to talk manically about the game even as the older man lay fading away in the bed in which he would die.
But O'Grady also discusses the rich literature of golf, from Tobias Smollett to P.
G. Wodehouse, and tells us of the terrifying and glorious occasion when he got to play a round with Arnold Palmer.
On Golf is the work of a great writer and a good golfer. Timothy O'Grady still dreams that he may one day become a truly fine player but in the meantime he has given us a book which beautifully describes his love affair with the game and goes to the root of the obsession that captivates so many.
Information
Format: Paperback / softback
Pages: 176 pages
Publisher: Vintage Publishing
Publication Date: 01/07/2004
Category: Golf
ISBN: 9780224061131
Other Formats
Paperback / softback from £8.85
EPUB from £4.99