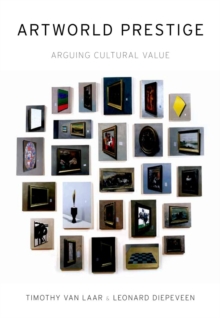 Artworld Prestige : Arguing Cultural Value
Hardback
Description
Artworld Prestige examines the ways in which cultural arguments about value develop: the processes by which some practices, artists, and media in the artworld win and others lose.
Timothy Van Laar and Leonard Diepeveen argue that the concept of prestige, although uncomfortable and consistently overlooked, is an essential model for understanding artworld values, as important as the more common models centered on economics or power.
Prestige shapes the formsof attention art is given, as well as the processes by which some affects dominate art discourse and others fall away.
But prestige does its work silently, and its principles are used unself-consciously.
People effortlessly display the protocols of being an insider. A form of socially constructed agreement, prestige shapes what we see, and does so with great power.
Prestige is inescapable, a version of Althusserian ideology or Foucauldian power that both constrains and enables.
It is also flexible, defining the seriousness of artists as diverse as Dan Peterman and Marlene Dumas, Gerhard Richter and Takashi Murakami, Elizabeth Peyton and Joseph Kosuth, Howard Finster and Frank Gallo.
Cultural argument about value in art is a matter of deference andconferral, performed through thousands of tiny acts of estimation that suggest one cultural form is less relevant, worthy of attention than another; acts that instinctively grant more attention to reviews in Artforum over Artnews; to the Tate Modern over the Hirshhorn; to anxiety over pleasure; to Duchampover Matisse; to conceptual art over abstract painting, and abstract painting over figure painting; to painting over ceramics, and video over painting. In order to argue candidly about cultural value, the artworld needs to understand the subtleties of prestige, of such things as what it means to be "serious." Not an expose but an explanation, Artworld Prestige offers such an understanding
Information
Format: Hardback
Pages: 224 pages
Publisher: Oxford University Press Inc
Publication Date: 09/01/2013
Category: Theory of art
ISBN: 9780199913985
Free Home Delivery
on all orders
Pick up orders
from local bookshops