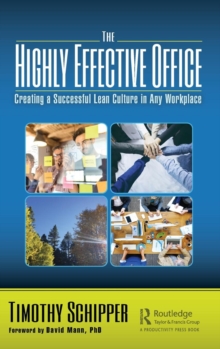 The Highly Effective Office : Creating a Successful Lean Culture in Any Workplace
Hardback
Description
The Highly Effective Office covers the transformation journey required to change the culture in the workplace from processes that suffer from functional separation and "silo-ed" departments to efficient and integrated systems.
Most office processes have evolved into separate and autonomous stand-alone functions that are sub-optimized.
The result is added wastes in the processes, and the customers are often the first to notice.
The wastes parallel the manufacturing floor wastes and deserve the same attention for identification and removal.
Yet, the culture of the office is predisposed to work by a separation of duties.
Roles and responsibilities are not aligned around processes.
The same type of dramatic transformations that were enabled on the concrete factory floor are needed in carpeted offices. This book describes methods to transform the value streams in the office and administrative areas of organizations, and it outlines why Lean works just as well in the office as it does in manufacturing.
Wastes typically reach 50% of the process effort, and these processes are ripe for improvement.
Throughout the book, waste removal in office processes are fully illustrated with descriptions of applying Lean tools to achieve flow.
Case studies from the corporations, non-profits, and higher education institutions demonstrate how various types of organizations have reached success by applying Lean principles to their processes. Lean expert Timothy Schipper outlines the structural and leadership changes that are required to create a transformational journey for process change and continuous improvement.
Leadership activities are outlined along with descriptions of how to assign ownership and responsibility for the changes inside the organization.
Various leadership behaviors are explored that support and help to sustain the effort.
Attention is given to how to start the journey, how to select projects and launch them with clear goals and objectives, and how to run successful workshops, as well as visual tools and techniques and educational content.
Finally, and most importantly, a description of the mature Lean culture is offered to show how to embed process improvement into the organization.
Information
Format: Hardback
Pages: 249 pages, 24 Tables, black and white; 58 Illustrations, black and white
Publisher: Taylor & Francis Ltd
Publication Date: 22/01/2019
Category: Management: leadership & motivation
ISBN: 9781138344532
Other Formats
EPUB from £35.09
PDF from £35.09