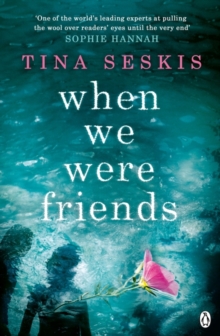 When We Were Friends
Paperback
Description
*An earlier version of this novel was published under the title A SERPENTINE AFFAIR* The addictive new novel from Tina Seskis, author of One Step Too Far.
It had always been the six of us. Since we met at university twenty-five years ago, we'd faced everything together.
Break-ups and marriages, motherhood and death. We were closer than sisters; the edges of our lives bled into each other.
But that was before the night of the reunion. The night of exposed secrets and jagged accusations.
The night when everything changed. And then we were five. Praise for When We Were Friends 'There's a poignant air of nostalgia about the sections set in the women's younger day, and you'll warm to the sharply-drawn characters.
Astute and witty.' Sunday Mirror 'Clever, intriguing, chilling - and utterly impossible to put down.
Tina Seskis is proving herself to be master of the twist' Grazia 'Six friends, one reunion, one gigantic mess.
One of the best books to read this April' Red Online 'A chilling tale of university friends 25 years later ...the tragic fallout of a summer reunion will make you wish you could read that bit faster' Stylist 'One of the world's leading experts at pulling the wool over readers' eyes until the very end' Sophie Hannah 'This dark whodunit explores just how complex friendships can be' Woman Magazine Praise for Tina Seskis 'Taut, compelling. ..a storming read' The Bookseller Books of the Year 2013 on One Step Too Far 'One Step Too Far is a genius tale with a twist' Stylist 'A whip-smart thriller that keeps you guessing right up until the final shocking twist' Mirror on One Step Too Far
Information
Format: Paperback
Pages: 416 pages
Publisher: Penguin Books Ltd
Publication Date: 23/04/2015
ISBN: 9781405917957
Free Home Delivery
on all orders
Pick up orders
from local bookshops
Reviews
Showing 1 - 1 of 1 reviews.
Review by brokenangelkisses
27/08/2015
What's it about?Six women who have remained friends since university meet up for a reunion. Tensions emerge, secrets are revealed, and by the end of the evening six has become five.The novel focuses on the relationships between the seven women and how these have been affected their choices in the succeeding twenty odd years.What's it like?Not quite what I expected. Seskis builds tension well in part one as the reunion - a picnic in Hyde Park - begins and underlying tensions are quickly established. Several women don't even want to attend the meet-up but are forcing themselves to go in the belief that the former strength of their friendships requires this sacrifice. So that bodes well. Not.Chapters switch between time frames but are only labelled with places, so readers have to pay attention to where each episode 'fits' in the women's shared history. As the reunion disintegrates into tears and arguments, Seskis repeatedly takes us back to the past and shows us how they reached this point, drip-feeding information so that we are constantly on the verge of multiple revelations. This works well, especially since there's no one story that monopolises your attention, so you're not impatiently flicking through the pages of one woman's story to reach another's.However, this breadth of viewpoint also means the reader doesn't really bond with any of the characters, or have a chance to fully appreciate their character. Most of them remain sketches, especially those who are given less narrative attention. This isn't really a problem; in fact, it's useful when it's revealed that one member of the group has been consistently underestimated by the others since their friendships started to drift apart.Friends and foesAt the heart of the novel is sadness that these friendships have drifted apart. Was it inevitable? Could things have turned out differently? Seskis shows how even at university the women are acutely aware of their differences, though at this point they are generous enough not to voice their real thoughts:'Renee's face hardened under her bleach-tinged fringe, which Juliette secretly thought looked odd against the black of the rest of her hair. She'd preferred it when it was all one colour.'The central idea seems to be that female friendships are just like that, underpinned by shared experience but wedged apart by unspoken criticism, disintegrating over the years as differences solidify. It's not a pretty picture, but then almost everyone in the novel is deeply unpleasant at least some of the time. An unethical door-to-door selling company puts the lives of students at risk; the two main husbands featured are both deeply immoral; the two main wives are disinterested wives and / or temperamental mothers, ignoring their husbands' needs, unable to meet their children's needs. At times, then, this is quite a depressing read, with a sense that past possibilities have shut down and the best years of their lives have been and gone.Minor notes Seskis tells us frequently how beautiful Juliette is. This got irritating...although in hindsight I think there might be a reason for this. We learn that Natasha's husband is having an affair with one of her "friends" - but in order to maintain secrecy there are awkward constructions like 'Natasha's old friend...' even as the adulterous couple are having sex. The same is true of scenes following the reunion. In order to hide which friend has disappeared, Seskis relies on constructions like 'she thought of how her friend had run off in hysterics', which feels so, so awkward when we're in their consciousness. As time moves forward at the end of the novel, we learn some developments in a very abrupt way which jolted me out of the narrative.Final thoughtsI think I judged this harshly when I first finished it. The characters were (mostly) unpleasant, their lives were awful (with one or two exceptions) and, most crucially, it wasn't quite what I'd expected. Perhaps this last point is why, as I've had time since to reflect on the book, I've realised that I really quite enjoyed it. Seskis does a superb job of capturing life: the way your past traps you in a defined role, the way your choices can feel like they weren't yours to make, the way friendships can shift to become a guilty burden rather than a vital support.It's not crime-y, even though there's a PI involved in the tale, but it is quite chilling in places, and might make you consider whether those friendships you've been clinging onto have become toxic. Could it be time to let the past go?