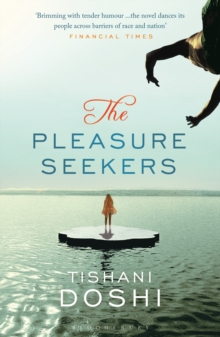 The Pleasure Seekers
Paperback
Description
August, 1968: Babo Patel arrives in London from Madras, with curly hair, jhill mill teeth and dreams of becoming a success.
When he meets the beautiful, auburn-haired Sian Jones, he falls in love instantly.
She, like him, is in search of something bigger than what the home she left behind can offer. But when Babo's parents learn of his intention to marry `some girl from God knows where' he is given an ultimatum: he can only marry Sian if they agree to live in Madras for two years before returning to London.
As the years pass by, the calamities, quirks and heartaches of first love, lost innocence, and old age unfold across cultures and generations of this mixed-up family in a topsy-turvy world.
Information
Format: Paperback
Pages: 320 pages
Publisher: Bloomsbury Publishing PLC
Publication Date: 01/04/2011
ISBN: 9781408809839
Other Formats
Hardback from £12.95
Paperback from £10.09
EPUB from £7.19
Free Home Delivery
on all orders
Pick up orders
from local bookshops
Reviews
Showing 1 - 3 of 3 reviews.
Review by ashmolean1
16/06/2015
Indian literature is one of my favourite genres so I was really looking forward to reading this one. Stories that take place on two continents with mixed marriages are particularly interesting to me as I am in one myself. The couple, Babo and Sian, find themselves estranged from there respective native countries and find happiness in each others. Doshi is a great writer and is certainly comparable to Thumrigar, Lahiri and Roy in prose style. This is a good first book but not a great one as the plot did not develop sufficiently as the reader expects. I hope for more from Doshi in terms of plot in her next book as the second half of The Pleasure Seekers seems to meander and be somewhat lacking in gripping narrative.
Review by cushlareads
16/06/2015
In 1968 Babo Patel leaves his close-knit family in Madras (now Chennai) to go to London. His father, Prem Kumar, owns a paint business and has organised a job for Babo with his cement supplier and a place in a polytechnic course. The Patel family are strict observers of the Jain religion, so alcohol and meat are off limits for Babo. Within a few months, Babo meets Sian, who's from a small village in Wales and whose mother hasn't even been to London.NOTE: a slight spoiler follows, but nothing you wouldn't guess anyway.There are no tricks in this novel - it follows Babo and Sian and their families in a straightforward narrative from 1968 to 2003. The story's based on her parents' relationship. I thought Doshi did a great job making all the characters jump off the page. The book slowed down a bit in the middle and could have done with a little less in it, but I really picked up for me near the end. The themes in here were ones that I could relate to a lot - moving around the world at 21, cross-cultural relationships, and watching your kids grow up.
Review by polarbear123
16/06/2015
A novel that spans three generations of a family and looks at the consequences of a controversial marriage between Babo and a Welsh girl for yhe rest of Babo's family. There is much to like here and you will find yourself caring about the fate of these characters. A book that nourishes the soul as you read is probably the best way to describe it.