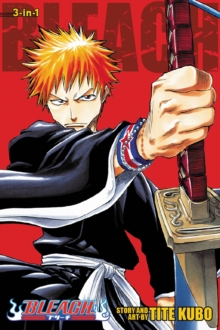 Bleach (3-in-1 Edition), Vol. 1 : Includes vols. 1, 2 & 3
Paperback
Description
Containing volumes 1, 2 and 3 of Bleach. Ichigo Kurosaki has always been able to see ghosts, but this ability doesn't change his life nearly as much as his close encounter with Rukia Kuchiki, a Soul Reaper and member of the mysterious Soul Society.
While fighting a Hollow, an evil spirit that preys on humans who display psychic energy, Rukia attempts to lend Ichigo some of her powers so that he can save his family; but much to her surprise, Ichigo absorbs every last drop of her energy.
Now a full-fledged Soul Reaper himself, Ichigo quickly learns that the world he inhabits is one full of dangerous spirits, and along with Rukia--who is slowly regaining her powers--it's Ichigo's job to protect the innocent from Hollows and help the spirits themselves find peace.
The paranormal action-adventure begins now!
Information
Format: Paperback
Pages: 576 pages
Publisher: Viz Media, Subs. of Shogakukan Inc
Publication Date: 07/06/2011
Category: Manga
ISBN: 9781421539928
Free Home Delivery
on all orders
Pick up orders
from local bookshops
Reviews
Showing 1 - 2 of 2 reviews.
Review by ElizaJane
16/06/2015
Vol. 1: Death & Strawberry - Fantastic beginning volume to a very long running series which is currently publishing in the 50's and still going! This has a bit of everything: humour, battles, monsters, paranormal, romance, etc. Things start off with two main characters and only a few supporting ones allowing the reader to get to know the characters without being bombarded with too much as often happens in volume one of manga series. It felt like everyone was shouting at each other all the time making Ichigo, ie "Strawberry", a little hard to get used to but by the end of the first volume he had softened up to the changes in his life and I've taken a liking to both him and the female Rukia. A teensy bit on the violent side, ordinary teen s*xual innuendo making the T 13+ rating spot on. Ends with an exciting cliffhanger and an overall brilliant first volume that has me excited about reading this series. (5/5)Vol. 2: Goodbye Parakeet, Good Night My Sista - I am completely hooked! This volume continues on introducing us to the characters while getting on with the plot and keeping the soul reapers busy with "cases". I love this aspect of the story, feeling that whenever a new Hollow comes along for the reapers to send home, it should be possible to keep this story fresh for a long time. The first half of the book focuses on Rukia and Chad. I've fallen in love with Chad and sincerely hope he will become a major player and not just a secondary character as he seems now. The second half gets back to the interplay between Ichigo and Rukia as they take on another couple of cases, one involving a strange cloned soul of Ichigo and a new character is introduced, who appears to be a merchant store owner for all the soul reapers' needs. On first sight I took a dislike to him but we are shown both sides of a character I can't commit to saying whether he is going to be a help or hindrance to our friends. Content continues to be definitely high on the s*xual innuendo side; still what I would call mild though with some of it going over the heads of readers who are more innocent than others who will get the "in' jokes right away. Not a cliffhanger ending this time but one that makes us wonder, and eager for the next volume. (5/5)Vol. 3: Memories in the Rain - Wow! First of all concentrates on the background story of how Ichigo's mother died then that sets the story for the last part which is all battle against this bad dude by name of Grand Fisher. At the end both sides vow vengeance against the other leaving us crazy to read the next volume. The character Kon is explored as an aside in this volume as well and he is a lot of fun; I'm going to enjoy him! (5/5)
Review by LoftyIslanders
16/06/2015
So, I read the first volume of this Manga a few years ago, and totally didn't connect with the story. I was confused by the violence and hyperbole. Now that I've read several Manga and Manwha, I have revised my opinion to MOST EXCELLENT!