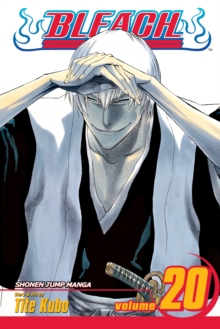 Bleach, Vol. 20
Paperback
Part of the Bleach series
Description
The shocking truth behind the collapse of the Soul Society is finally revealed!
The magnitude of the conspiracy is far-reaching, and the perpetrators wield staggering power.
Is this the end of the Soul Society?
Information
Format: Paperback
Pages: 216 pages
Publisher: Viz Media, Subs. of Shogakukan Inc
Publication Date: 21/07/2007
Category: Manga
ISBN: 9781421510446
Free Home Delivery
on all orders
Pick up orders
from local bookshops
Reviews
Showing 1 - 5 of 5 reviews.
Review by mscongeniality
16/06/2015
Volume 20 was entirely comprised of the 'End of Hypnosis' chapters which serve to wrap up up the Soul Society arc. In my experience, it can go either way when you have a single volume that brings resolution to the entire series to that point, and I was not disappointed in what this volume delivered. This series of chapters took care of the major mysteries and did a reasonable job with the foundation for the next story arc (though there was a good deal of longwinded explanation before we got to our dramatic resolution). I don't think that anybody is going to make the argument that Bleach is somehow deep or meaningful. It truly is formulaic shounen, but the story is laid out well and the drama perfectly adequate to the tale being told.
Review by Nikkles
16/06/2015
I found this volume to be a little disappointing. It did not seem that very much happened and that everyone just accepted everything they were told without question. Also, most of the characters were not used to their full advantage. That being said, the artwork was still beautiful and the battle wonderfully drawn. I'm looking of more fun and interesting plots and stories in this series.
Review by camarie
16/06/2015
I really recommend this series. A teenage boy helps direct souls in the afterlife to soul society where they can live peacefully. Only Hollows (corrupted souls) get in the way and even harm innocent souls. Ichigo relies on friends and family to fight for what is right.
Review by Kassilem
16/06/2015
Talk about the mother of all plot twists. I could never have guessed the person behind everything when I first watched the anime. So knowing who it was, I paid attention this time as I read the manga to see if I could find clues. There were none. The twist hits you in the gut without you even having seen it coming. This is a huge page turner, with dozens of events explained. Comrades who are actually enemies, enemies who turn into comrades, hidden plots revealed. The end of this story arc certainly ends with a magnificent bang, just begging you to pick up the next book to enter the next story arc.
Review by JeremiahRivers
16/06/2015
I like the Bleach But this one Boled my blood. when there team capten betrayed them and not just them the only person who truty care about him. I hope in the next book He gets His butt kick hard and gets destroyed. ichigo is the main charaiter in the book and hes a great fighter i hope he Goes hollow and kills him. For the people that dont read bleach hollow is a form when he gets mad and a part of him takes control and he cant do any thing about. ichigo is strong but his dark side is stronger and dont take any thing from any one.