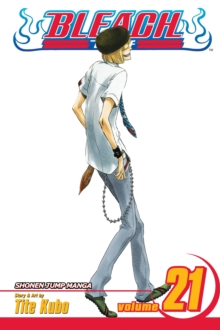 Bleach, Vol. 21
Paperback
Description
Ichigo and his friends return to the world of the living, where life goes on as usual.
But the arrival of a new transfer student raises disturbing questions, for outside school he carries a zanpaku-to and wears the mask of a Hollow...
Information
Format: Paperback
Pages: 200 pages
Publisher: Viz Media, Subs. of Shogakukan Inc
Publication Date: 22/09/2007
Category: Manga
ISBN: 9781421511658
Free Home Delivery
on all orders
Pick up orders
from local bookshops
Reviews
Showing 1 - 4 of 4 reviews.
Review by camarie
16/06/2015
I really recommend this series. A teenage boy helps direct souls in the afterlife to soul society where they can live peacefully. Only Hollows (corrupted souls) get in the way and even harm innocent souls. Ichigo relies on friends and family to fight for what is right.
Review by AbSc0603
16/06/2015
Finally I understand what the mask means and all of that. Nice twist, but personally I think it would seem more, I don't know, better if Ichigo was the only visard (I can't remember how to spell it) or there was only one every few centuries or something.
Review by Kassilem
16/06/2015
In the anime version, there was a whole different story arc placed between volume 20 and volume 21; the Bount saga. I'm glad it's not in the manga. Solely because it means we're already into the story arc that I'm so excited for. There was a terrifying twist in volume 19 that is killing for an explanation. Now, a new character appears and wants to recruit Ichigo. A character with both a Soul Reaper sword and a Hollow mask. The puzzlement deepens, and you can just tell this new evil that Ichigo has to face is going to be even worse than the past ones. Inner demons always are the worst. And the most exciting. The volume raises many questions and "omg what!?" moments. The next arc is sure to be even more intense.
Review by JeremiahRivers
16/06/2015
yes Finly a book that makes sence the Guys want ichigo to join them. There the kind of people like itchigo with the dark side.but unlike ichigo they know how to control it. ichigo like a dummy turns them down but i hope he changes his mind. he know that the dark side of him has great power and if they worked to gether they would be the best out there hes already the best but with that power he would be untuchable. hopfuly he changes his mind in the next book and goes to them and Become the true ichigo.