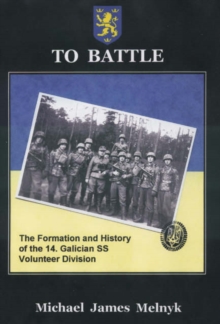 To Battle: the Formation and History of the 14th Waffen-Ss Grenadier Division
Paperback / softback
Description
Of all the 'foreign' Waffen-SS divisions, the 14th has arguably maintained a higher public profile and continued to attract more attention in the UK, USA, Canada, Russia, Ukraine and Poland than any other.
Drawing extensively upon a wide variety of sources, the author details the abortive history of German/Ukrainian relations during the first half of the twentieth century which preceded the formation of the Galician Division in the spring of 1943.
Set firmly within the political context of the time, this work demonstrates that from the outset both German and Ukrainian architects of the Division sought to exploit the formation for their own conflicting agendas.
The author gives a careful assessment of the Division's military engagements and explains the reasons for its tragic demise at the Battle of Brody, emphasising how the military initiative and vast material superiority of the Red Army led to its virtual destruction during the Soviet summer offensive of 1944. The book concludes with the cessation of hostilities, when the Division, despite being the focus of Stalin's attention, escaped the forced repatriation operations undertaken by the Western Allies in the immediate post-war period.
Information
Format: Paperback / softback
Pages: 400 pages
Publisher: Helion & Company
Publication Date: 31/01/2006
Category: European history
ISBN: 9781874622192