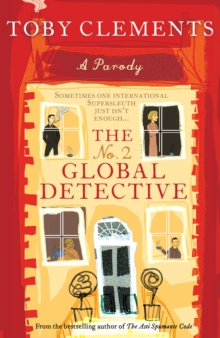 The No.2 Global Detective
Paperback
Description
Cuff College of Transgression and Pathology, Oxford. The quiet of the evening is shattered by the discovery of a Body In The Library. The police are Baffled. Tom Hurst, a junior lecturer at the College, breaking every rule of the whodunnit genre, follows a trail of arcane clues that leads him to Botswana and Mma Delicious Ontoast. His investigations then take him to Sweden and Burt Colander; to Edinburgh, where he is grudgingly helped by DI John "Just-Now" Rhombus; and to Richmond, Virginia, where he meets the brilliant, attractive-in-a-powerfulway, midnight-blue-pantsuited forensic pathologist Dr Su Carpaccio. Sometimes one supersleuth just isn't enough. The No.2 Global Detective revisits and rewrites some of the most famous crime novels of recent times, taking the genre and its heroes to an ultimately hilarious extreme.
Information
Format: Paperback
Pages: 256 pages
Publisher: Canongate Books Ltd
Publication Date: 09/11/2006
ISBN: 9781841958514
Free Home Delivery
on all orders
Pick up orders
from local bookshops
Reviews
Showing 1 - 2 of 2 reviews.
Review by TheoClarke
16/06/2015
Clements' second parody is broader than the Asti Spumante Code because he targets the entire detective fiction genre and five authors particularly. Framed in an Oxford college locale straight from Dorothy L. Sayers, the plot hops from Alexander McCall Smith's Botswana, through Henning Mankell's Sweden and Ian Rankin's Edinburgh, to Patricia Cornwell's Virginia. It is unfortunate that the best of these comes early: his mockery of the undiluted gentleness of Precious Ramotswe is heartless but acute whereas the extremity of Cornwell's prose and plots leaves no room for subtlety. Ian Rankin was remarkably ungracious about this book when it was published, which only serves to emphasise the accuracy of Clements' mimicry. Rankin himself, however, escapes the satirist's eye even though there are snipes at Cornwell's attempt at true crime writing and even at the author's own publisher. The apt mockery is worth sticking through the slightly muddled early chapters although I feel that the best approach to the book is to read only Parts II, III, and IV.
Review by dsc73277
16/06/2015
Toby Clements has a playful dig at McCall Smith, Mankell, Rankin and Cornwell (Patricia not Bernard) by poking fun at their fictional detectives. The mild-mannered Precious Ramotswe becomes the hard-drinking, fast living Delicious Ontoaste; Inspector Kurt Wallender becomes Burt Colander, a policeman short of genuine crimes to investigate but just as miserable as his original; Rebus becomes Rhombus, the maverick cop who gets a little too close to the criminals he pursues, and Cornwell's Kay Scarpetta is thinly disguised as Doctor Faye Carpaccia, a pathologist with her own submarine. All four are brought together by Tom Hurst, as he attempts to solve a murder at an Oxford College. Hurst is a rather anonymous character who seems to serve little purpose beyond linking the four main parodies.Humourous writing is harder than it looks, and parody especially so. What one reader will find hilarious, another is likely to consider silly and pointless. There would certainly seem to be little point reading this if you haven't read at least one of the books featuring each of the original characters.I have only read one of the Scarpetta books and didn't really got on with it, which probably goes a long way to explaining why I found the fourth section of this book by far the weakest. It also seems to be the silliest and most absurd section, though perhaps that is because Patricia Cornwell's originals are already so unbelieveable that the parodist is inevitably pushed towards the realms of nonsense. There was, however, one highlight for me in this section in the form of an amusing reference to Patricia Cornwell's obsession with the Jack the Ripper murders: "Capaccia's proof that the Second World War was really won by Dick Van Dyke disguised by Winston Churchill has been critically mauled by The Times of London."The morose tendencies of so many of the characters in Mankell's Wallender books are wonderfully satirised in the Swedish section this yarn. Clements has also spotted that Mankell's detective seems to spend an inordinate amount of time in meetings, and sends this up to good effect.Rhombus retains the love of drink and music that we associate with Rebus, but whereas the original Edinburgh cop is at home with the darker side of the outwardly genteel city, Clements gives Rhombus a rather amusing yearning to live in the English home counties:"Some people saw only the dark side of Edinburgh ... Rhombus was not like that, but he could see that the city lacked the grace or appeal of Godalming, or Hindheid, Haslemere or even Farnham."For me though, it was the section mocking McCall Smith's Botswanan lady detective that really hit the mark. It pillories that sunny optimism of the Ramotswe series and their main character's tendency look down upon all other African nations aside from Botswana. It also suggests that most of the mysteries she investigates are mundane or even dull, and require little more than common sense to resolve.I wonder what the original authors thought about being targets of Clements wit?