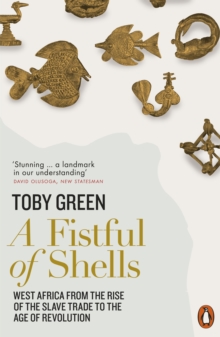 A Fistful of Shells : West Africa from the Rise of the Slave Trade to the Age of Revolution
Paperback / softback
Description
Shortlisted for the Wolfson History Prize, Cundill History Prize, Fage and Oliver Prize, the Los Angeles Times Book Prize and the Pius Adesanmi Memorial Award Winner of the Historical Writers' Association Non-Fiction Crown 2020Winner of the American Historical Association's Jerry Bentley Prize in World History 2020Winner of the Nayef Al-Rodhan Prize for Global Cultural Understanding 2019An Observer and Wall Street Journal Book of the Year 2019A groundbreaking history that will transform our view of West AfricaBy the time of the 'Scramble for Africa' in the late nineteenth century, Africa had already been globally connected for many centuries.
Its gold had fuelled the economies of Europe and Islamic world since around 1000, and its sophisticated kingdoms had traded with Europeans along the coasts from Senegal down to Angola since the fifteenth century.
Until at least 1650, this was a trade of equals, using a variety of currencies - most importantly shells: the cowrie shells imported from the Maldives, and the nzimbu shells imported from Brazil. Toby Green's groundbreaking new book transforms our view of West and West-Central Africa.
It reconstructs the world of kingdoms whose existence (like those of Europe) revolved around warfare, taxation, trade, diplomacy, complex religious beliefs, royal display and extravagance, and the production of art. Over time, the relationship between Africa and Europe revolved ever more around the trade in slaves, damaging Africa's relative political and economic power as the terms of monetary exchange shifted drastically in Europe's favour.
In spite of these growing capital imbalances, longstanding contacts ensured remarkable connections between the Age of Revolution in Europe and America and the birth of a revolutionary nineteenth century in Africa. A Fistful of Shells draws not just on written histories, but on archival research in nine countries, on art, praise-singers, oral history, archaeology, letters, and the author's personal experience to create a new perspective on the history of one of the world's most important regions. 'Astonishing, staggering' Ben Okri, Daily Telegraph
Information
Format:Paperback / softback
Pages:656 pages
Publisher:Penguin Books Ltd
Publication Date:30/01/2020
Category:
ISBN:9780141977669
Other Formats
EPUB from £3.99
Hardback from £22.69