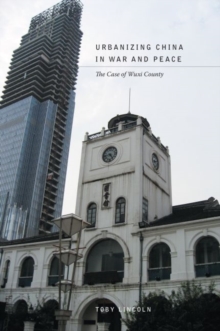 Urbanizing China in War and Peace : The Case of Wuxi County
Hardback
Description
Urbanizing China in War and Peace rewrites the history of rural-urban relations in the first half of the twentieth century by arguing that urbanization is a total societal transformation and as important a factor as revolution, nationalism, or modernity in the history of modern China.
Linking the global and the local in space andtime, China's urbanization was not only driven by industrial capitalism and the expansion of the state, but also shaped how these forces influenced daily life in the city and the countryside.
Although the conflict that beset China after the Japanese invasion in 1937 affected the development of cities, towns, and villages, it did not derail previous changes.
To truly understand how China has emerged as the world's largest urban society, we must consider such continuities across the first half of the twentieth century - during periods of war as well as peace.The book focuses on Wuxi, a city that lies a hundred miles to the west of Shanghai.
In the early twentieth century local industrialists were responsible for it quickly becoming the largest industrial city in China outside treaty ports.
They built factories, roads, and other infrastructure outside the old city walls and in surrounding towns and villages.
Chapters examine the county's transformation as recorded in guidebooks and travel magazines of the time and the role of the state in the early 1920s and into the Nanjing Decade, when new administrative laws led to the continued expansion of the city under both municipal and county officials.
They explore the revival of the silk industry during the Japanese occupation and the industry's role in driving urbanization, as well as efforts by Chinese leaders tocarry out prewar development plans despite lockdowns and qingxiang (clean the countryside) campaigns.
In the midst of the barbed wire and watch towers, plans to shape the built environment in Wuxi County and the region as a whole persisted and were carried out.Ambitious and well researched, Urbanizing China in War and Peace will appeal to scholars and students of Chinese urban history, the Anti-Japanese War of Resistance, and the Republican period.
Its engagement with issues of urbanization in general will interest urban historians of other times and places.
Information
Format: Hardback
Pages: 288 pages
Publisher: University of Hawai'i Press
Publication Date: 30/05/2015
Category: Asian history
ISBN: 9780824841003
Free Home Delivery
on all orders
Pick up orders
from local bookshops