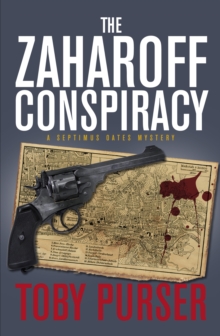 Zaharoff Conspiracy
Paperback
Description
When a bundle of documents and news clippings is thrust into the hands of Septimus Oates by a mysterious stranger as he lies dying in a quiet Oxford street, the unsuspecting historian is jettisoned headlong into a web of deceit, betrayal, revenge and long hidden secrets.
Petrified and confused, Oates takes refuge in the only place he can think of: Winchester.
There he and his trusted friend Quayle, begin to piece together the jumble of documents and newspaper cuttings and stumble upon a secret which could question the legitimacy of the British monarchy and its succession.
Unwittingly, Septimus and Quayle find themselves drawn further into bitter - yet long forgotten - betrayals and machinations of eighteenth century England and uncover a horrifying truth which threatens to bring a long simmering quest for vengeance to a murderous conclusion, shattering the serenity of 1914 Europe. From the quadrangles of Oxford to the mountains of Austria and Bohemia and the streets of Prague, Vienna and Sarajevo, Oates and Quayle - and shadowy influences of the fledgling British Secret Intelligence Service - uncover an assassination plot which could bring the states of Europe - and the world - to the brink of war.
Information
Format: Paperback
Pages: 336 pages
Publisher: Methuen Publishing Ltd
Publication Date: 27/03/2014
ISBN: 9780413777546
Free Home Delivery
on all orders
Pick up orders
from local bookshops